Archive for April 2010
You are browsing the archives of 2010 April.
Continuing the fan-written novel in progress called FRIDAY THE 13TH: TOMMY JARVIS written by Christopher Highland, picking up where the story threads of FRIDAY THE 13TH PART V: A NEW BEGINNING left off. Click here for previous entries.
This has shaped up to be a big weekend for coventions and the chance to meet Friday the 13th actors and one very special composer. Con-tamination is offering up some vintage alumni in the form of the following series veterans: Join Ari Lehman (Young Jason, Friday the 13th 1980), Victor Miller (Writer, Friday the 13th [...]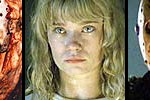 Starting today and running through Sunday May 2nd, fans of many different genre films will get the chance to meet the stars of those films and talk shop. For the Friday the 13th fanbase, you will be treated to the likes of Kane Hodder (Jason Voorhees, Part 7-10), Derek Mears (Jason Voorhees, 2009 reboot) and Lar [...]
As you can probably tell, I've handed off the blog reigns to the king of swing himself, jasonsfury, so I can work on other projects related and unrelated alike - like, the Friday the 13th forum coming up for you guys, producing a DTV sequel to F13th's "bastard cousin" franchise (guess), guest-writing a chapter for [...]
With A Nightmare On Elm Street opening today, and that franchise inexplicably tied to Friday the 13th for perhaps all eternity, I thought a question could be asked. Do you think that A Nightmare On Elm Street will open close to or more than the $40 million gross of Friday the 13th 2009? It is [...]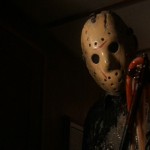 Last week, Hellbound Jason easily beat out the sad, droopy Versus Jason. It's interesting to see that a Jason that barely appeared in one movie would beat out a Jason that had his own grudgematch with Freddy Krueger. Is it the actor or the director of the film that gives Jason his mojo? Well, it [...]
Bloody Disgusting is reporting an unconfirmed rumor that Adrienne King (Friday the 13th 1980) may have landed a cameo in Scream 4! As mentioned, this is unconfirmed, but it would be very cool to see Adrienne in a new film. This also would follow the rumored storyline of Scream 4 where the killer may be [...]
As the weeks pass on, more and more fans are starting to become fans of A New Beginning. Likewise, Roy is also growing on fans as a force to be dealt with. Since none of the major toy companies have produced a rendition of Roy yet, many customizers have taken it upon themselves to make [...]
We have talked about this game previously at fridaythe13thfilms.com, but I thought I would take the opportunity to reintroduce this relic of gaming systems past. FRIDAY THE 13TH: The Computer Game was released by Domark Ltd in 1985 to be played on the Commodore 64. The one thing about this game that you notice right away is [...]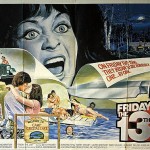 If you talk to some fans of both the Nightmare On Elm Street and Friday the 13th series, they might tell you that the real battle between these slasher icons was at the box office and not on screen. Although Freddy vs Jason was a big hit for New Line Cinema back in 2003, many [...]