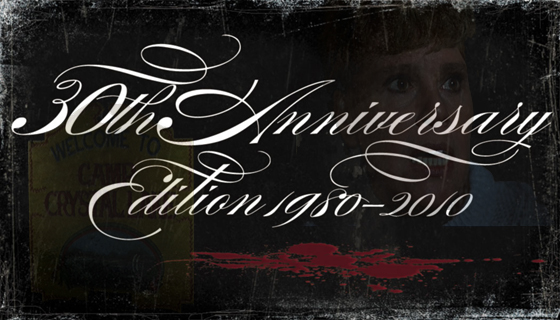 Last week item #2 of the 30th Anniversary package was revealed to be a Full-color poster (11 x 17) of the shirt artwork, suitable for framing. Also, each poster will be hand-signed and numbered by the stars of Friday the 13th: Adrienne King, Betsy Palmer and the original Jason himself, Ari Lehman. Now the third item has been revealed………
Every Anniversary Edition package comes with an entry ticket for an exclusive contest: one lucky winner will receive an authentic, screen-used piece of wardrobe from a Friday the 13th movie! This is only open to Anniversary Edition purchasers. Buy two packages, get two tickets. The more you buy, the more chances you have to win this one-of-a-kind piece of Friday the 13th history. Drawing will be held on 5/09/2010. Why is this date important? Because it's 30 years to the day that Friday the 13th opened at cinemas across the US!
If you're interested in finding out more on how to get this package, all you need to do is sign up for the mailing list and you will be sent updates on how, when and where you can order this once in a life time package. Visit 30 Years of Fear to sign up for more details.