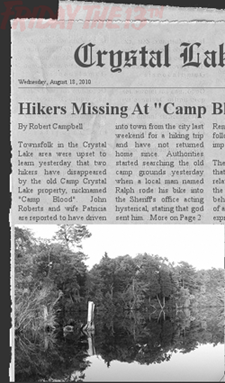 We have been working on putting together the Crystal Lake Gazette for our visitors to not only read, but participate in creating on a weekly basis. So, what we are doing now is accepting stories that could possibly run in the Gazette with other items that the Admins of the site will contribute. To contribute stories or ideas for the Gazette, here is what you need to do:
1. Send your stories or ideas to [email protected]
2. In your email, include "Weekly Story Ideas" in the subject line.
3. When submitting your story or idea, include the name for which you would like your work to be credited to.
4. Stories should be relevant to the Friday the 13th film series and not contain previously used or copyrighted material.
Although it is extremely appreciated that everyone sends in their ideas or stories, please be patient if your thoughts are not immediately included in upcoming issues of the Gazette. We will try to match stories and ideas to the particular theme of the Gazette for that week. Site visitors will be notified via email when their idea or story is ready to be used in the upcoming issue of the Gazette. If you have any questions, please send an email to the email address mentioned above.
An official release date has not been chosen yet, but the Crystal Lake Gazette will be debuting soon. Thanks for everyone's contributions and lets hope this turns into a very successful venture for the fans and the Amins of the website! Oh yea, the person that started this idea for the website, "timateo", gets to have his story/idea included in the first edition of the Gazette.