Before appearing in Friday the 13th: Part 2, Tom did some modeling where he portrayed the Malboro Man on billboards in New York City and he also starred in a Wisk commercial. During the filming of Friday the 13th Part 2 he became great friends with all of the cast and was well liked.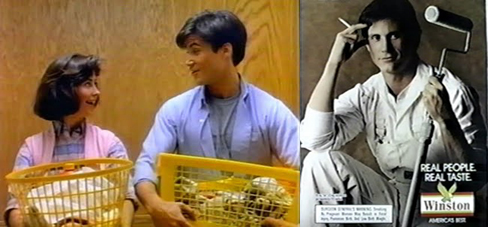 From Crystal Lake Memories:
"He was very natural, says Lauren Marie Taylor. That there was just a mutual respect amongst all of us, for each other, is a testimony to Tom's genuineness, and also his ability as an actor, to be able to share that trueness with everybody.
After the film, continues Taylor, I used to see Tom at commercial calls, and I actually went on auditions with him where we were supposed to play husband and wife. I sometimes think that maybe Tom even felt sorry for me because I was such a dork! I learned so much from Tom. I will always miss him."
After Friday the 13th Part 2, Tom went on to act in a small role in Remo Williams: The Adventure Begins. This was one of my favorite action movies growing up. Back when you actually filmed action pieces on location and not on a stage in front of a green screen. The Statue of Liberty scene is awesome! I believe Tom's role in this film was an actor in a soap opera in the film.
Tom unfortunately contracted AIDS shortly thereafter and starred in a documentary of himself and his life called, "Life and Death on the A-List". The A-List spoken of here is that group of gay men in large cities who are desired because of their handsomeness, their buffed body, and their celebrity. In the film, Tom says he was on the Manhattan A-List for 1984-94. This documentary ends with Tom's family by his bedside as he makes his final comments about the AIDS epedimic in America.
Tom's tragic ending would not go unnoticed to his fans as when the AIDS quilt was presented in New York in 1999, Tom's fans offered their own creations to add to the quilt. Several squares shows a man in a wheelchair with Jason in the background.
Special thanks to mynewplaidpants.blogspot.com for the pics of Tom in his commercials.
R.I.P. Tom McBride
(October 7, 1952 - September 24, 1995)