I have been reading that alot of people are passing on buying the new DVD's for Jason Takes Manhattan and The New Blood as they are waiting for either the Blu-Ray release or the ever impending newer box set release. For those of you that fall into this category and haven't seen these exteneded scenes then enjoy the screen shots below.
This has been long talked about and the photo of the dead boxer with darts in his eyes has appeared in print ever since the release of the film in 1989. The scene itself is pretty long for a cut scene and follows a drunken deck hand stumbling through the bowels of the ship while Jason's shadow seems to follow him. As the deck hand comes to a set of stairs the boxer bursts through a set of doors and falls down the stairs with the darts already in his eyes.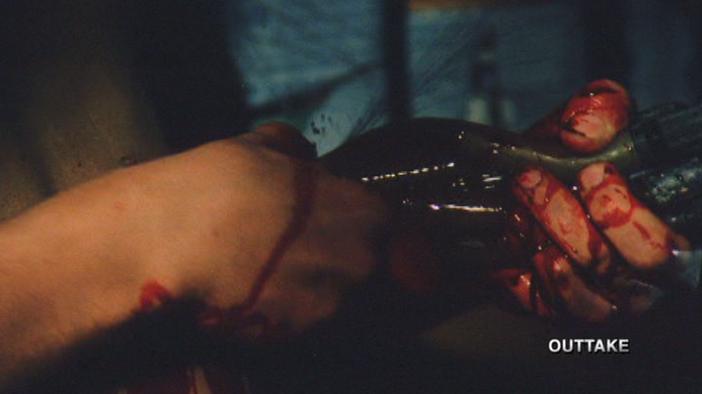 After Jason stabs Jim in the stomach with the harpoon gun, the camera stays with the shot for an extra 2or 3 seconds and shows a more graphic wound appear with more blood spirting out of the wound.
A wider shot of the dispatched Tamara shows numerous shards of broken glass stabbed into her body.

The scene where Jason prepares to be bombarded by toxic waste, he spits out water. During this sequence, a scene is shot that shows a young Jason trying to crawl out of the mouth of Jason, yelling "mommy, don't let me drown". The scene was cut due to technical problems. The end of this movie is the one thing in the franchise that really gets me mad. I hate the ending completely. That being said, with this cut sequence, you do see where the director was tring to go. Rob Hedden even mentions that he wanted a twist on the end of the movie. A way that audiences would think that Jason was really dead. And this does explain why Jason says mommy, "don' let me drown". It really isn't him, it's some half ass pure essence of Jason trying to escape.
Now, fans that thought Jason Goes to Hell had some crazy ideas, think about what could have been 4 years earlier!