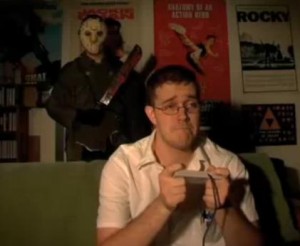 I know we posted this at the beginning of the year, but for those fans that are unfamiliar, the Angry Nintendo Nerd has reviewed  many games from the original NES system that was released in the late 80′s. There was no review that made me laugh more than his review for the Friday the 13th game.
The Angry Nintendo Nerd is enjoying his game playing ways when our favorite slasher crashes the party and "insists" that he continue playing Jason's favorite game.
As excruciating as the thought is, our beloved Nerd dives into the complicated and sometimes dumbfounded world of the NES game Friday the 13th.
We get to see Mrs. Voorhees floating head and Jason strolling the campground all while you, the counselor, dodge the mean zombies and camp wildlife.
So, check out the review at Youtube if you haven't already and enjoy some truly classic moments from Friday the 13 th and The Angry Nintendo Nerd.