VOTING HAS CLOSED.
Surprisingly enough, there were only three movies in the franchise that featured camp counselors and only two of those movies were at Camp Crystal Lake. Well, one movie where it was actually called Camp Crystal Lake and one movie where it was called Camp Forest Green. Well, for a camp to operate there has to be a camp director and the following characters were ready and willing to teach young people the basics to survive outdoors. It's a shame they coudn't survive ol' Jason. Vote to let everyone know who you think is the best camp director of the bunch.
---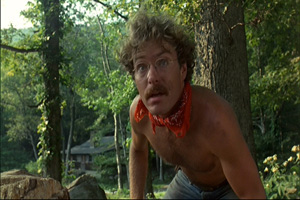 Steve Christie (Friday the 13th (1980))
This character will always be a pinnacle of Friday the 13th lore for being the owner of Camp Crystal Lake. But he had to also be camp director so he could find babes in the woods like Alice. If Steve would have spent more time listening to Crazy Ralph's prophecies and less time flirting with Alice and Sandy the waitress, perhaps he would have survived crazy Mrs. Voorhees.
Paul was a by the book camp director who wanted to shape young minds into tough, responsible camp counselors. After one more night on the town, things were going to get serious. In one of the most infamous scenes of the franchise, Paul tells the campfire story of the deranged Mrs. Voorhees and her son Jason. "..living on wild animals and vegetation. Jasons's out there. Hungry for young blood."
Darren (Jason Lives)
The one half of team Camp Forest Green. In an effort to get to camp on time he thought it better to just drive right through Jason. Too bad Lizbeth stopped the car and didn't listen to her husband. "Get out of the road scumbag. Now. Get back in here or he'll kill you. Not if I get him first"
The better half of team Camp Forest Green. She knew any weirdo wearing a mask was never friendly. Yet instead of simply driving around or through Jason she almost gets them stuck in a gully and then stops in front of Jason. She was one of the better characters in the franchise, but you never stop in front of Jason. ""Just drive towards him. Nobody wants to die. Yea, that really scared the shit out of him"]