Coroners have all the luck. They work crappy hours, but get the benefit of dealing with people all day long that never talk back. Then comes o'l Jason to mess everything up. You would think that Jason would appreciate their handy work. After all he and the coroners have something in common, they all slice bodies up. Vote for which of these coroners you think has what it takes to move on to the next round.
---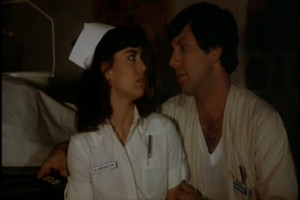 Axel (The Final Chapter)
Axel thinks of himself as THE coroner pimp. He lures nurses into the hospital morgue at night to get his freak on. And on those rare occasions when he isn't scoring with the hospital staff in the morgue, he enjoys watching young woman aerobicise on TV. If only he would have closed that door behind him tighter.
Phil (Coroner) (Jason Goes To Hell)
Richard Gant is great in his scene. I laugh outloud everytime he says, "In my professional opinion this guy's deader than shit!" He doesn't play the role too seriously and has fun doing it. Also, he makes for an awesome Jason in the movie. He has the same build as Kane.
Assistant Coroner (Jason Goes To Hell)
Dean Lorey also turns in a brief and funny performance as the assistant coroner. I love when he turns to Jason's body parts and tells him to "suck it". He also has an apparent need to take a "mango size crap" on Jason's mask.