VOTING HAS BEEN CLOSED ON THIS DIVISION
These characters played pretty big parts in their respective movies. Which Sheriff do you think can uphold the law and put Jason in his place? Vote now to move your favorite sheriff to the next round.
---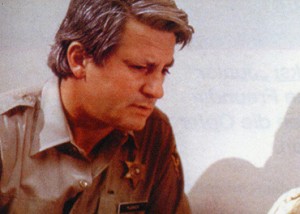 Sheriff Tucker (Part 5: A New Beginning)
He was concerned for Tommy Jarvis. Also, he thought Ethel looked lovely, but
Tucker's
ass was on the line. It got so bad that the mayor told him that he didn't care if the sheriff had to put his own mother behind bars. Remember, this is a small town and small towns are supposed to be safe.
Sherrif Garris (Part 6: Jason Lives)
Garris has the biggest role out of all of the sheriffs in the Friday the 13th franchise. He is a devoted father that doesn't take any crap. You try to steal one of his guns, that's just like screwin' the pooch. It figures, he tries to be nice to some people. He bends backwards and all he wants is respect. Iron this punk.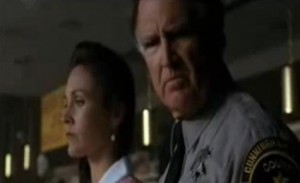 Sheriff Landis (Jason Goes To Hell)
In the grand scheme of the franchise, Landis had the most difficult scenario to deal with. Not only did he have the unenviable task of dealing with the freako bounty hunter, Creighton Duke, but he had to deal with a body hopping Jason trying to bump uglies with his lady, Diana. Even after getting his nose shoved into his cranium, he shows up at the Voorhees house to help Jessica. She thought he was dead, well she was wrong.
Sheriff Williams (Freddy vs Jason)
You would think the this sheriff would have the hardest task. He has two serial killing madmen running loose in his streets. However, he never comes face to face with either of them. At least the other sheriffs in this list confronted or spoke to the crazed killer. Give Sheriff Williams credit though, he had to deal with annoying deputies and bad dialogue throughout!