VOTING IS CLOSED
I know that I am going to get some, shall I say, interesting feedback on this division. I had to throw this one out there and let people vote, though. Mrs. Voorhees, the deranged, vengeful mother of Jason exacted her revenge on the unsuspecting counselors-to-be in the original Friday the 13th. She returned for a brief stint at the end of Part 3 in the end dream serquence, but after that she was not seen again until Freddy vs Jason. Recently she appeared in the reboot. The need of fans to see Mrs. Voorhees has grown as the years have passed. I think there is a weird connection to Mrs. Voorhees, almost like an empathy towards the character.
Well, pick your favorite Mrs. Voorhees and try to keep an open mind when voting!
---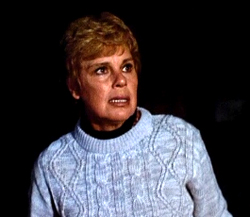 Friday the 13th (1980)
The original, and many will say the best. She laid the groundwork for everything we know about Jason and Mrs. Voorhees. She truly was vengeful and also an old friend of the Christie's.
"You see, Jason was my son and today is his birthday."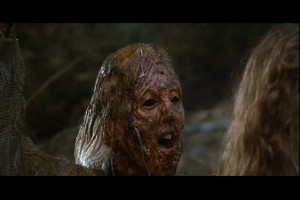 Friday the 13th Part 3
Although, this incarnation of Mrs. Voorhees never speaks and has the least amount of screen time, she did have an impactful appearance in the end dream sequence. Some people may disagree and view it as a cheap ripoff from the original, but the makeup work and homage to the original make her appearance worthy of the division.
Freddy vs Jason
I actually really liked this portrayal of Mrs. Voorhees. I thought that this version of the character better exhibited the characteristics of a dominearing mother that could cause a son to go maniacal on kids for three decades.
"You're like a big stupid dog!"

Friday the 13th (2009)
I am well aware of the majority feelings toward this movie. However, for nostalgic reasons, I thought the brief appearence of Mrs. Voorhees helped start the movie out on the right foot. Nana Visitor did an ok job in rehashing lines written by Victor Miller for the original movie. I just wish we could have seen this Mrs. Voorhees for a longer period of time.
"It'll be easier for you than it was for Jason."