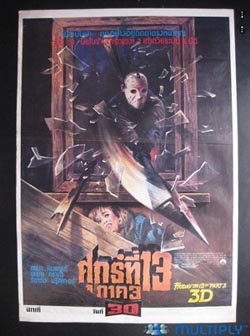 Some of our visitors might be aware that the 3D boom in Hollywood is at an all time high. The 3D film truly is in a renaissance. Because of this, Avatar Director James Cameron holds the medium dear to his heart as he sees the new technology he helped create for the new age of 3D as something that can propel filmmaking into a new period in history. However, studios are going the cheap route and trying to cash in on the 3D craze.
Most recently, the remake of Clash of the Titans was bashed pretty hard for the post 3D conversion the film undertook to become a more marketable film to audineces. The post 3D conversion technique definitely leaves something to be desired as the auduence just does not get the full effect of the three-dimensional process. Productions that spend more money to film an entire movie in 3D most definitely produce a more enriched viewing experience. This is where this weeks article in Vanity Fair has sparked controversy in regards to Piranha 3D and in the process, called out Friday the 13th Part 3.
In an interview by Vanity Fair, James Cameron speaks out about ther post production 3D process and likens it to what he calls "cheapening the medium"
"Because it just cheapens the medium and reminds you of the bad 3D horror films from the '70s and '80s, like Friday The 13th 3D. When movies got to the bottom of the barrel of their creativity and at the last gasp of their financial lifespan, they did a 3-D version to get the last few drops of blood out of the turnip"
We all know that the Friday the 13th series is one big gimmick. The franchise was started as a gimmick and has lasted as long as it has because of the marketing the gimmick has created. It is just interesting to think that after all of these years, a major player in Hollywood references one of the backbones of the Friday the 13th franchise as his argument for what is wrong with 3D. It looks as though Sean Cunningham and Frank Mancuso Jr. knew what they were doing!