Robbi Morgan - "Annie"


Contact Information:
Unknown

Biography: "Robbi Morgan appeared as a child actor in the movie, What's the Matter with Helen? in 1971. She proceeded to do several Broadway shows and act in film and television. She got married in 1987 to actor Mark L. Whalberg, who was recently seen hosting the reality series, Temptation Island." - IMDB.com
Quote: "I went in to audition for Barry Moss and Julie Hughes for something else. They said, 'You know, Robbi, you're not really right for this, but there's a movie called Friday the 13th and they need an adorable camp counselor.' I was 17 or 18 years old. And when Sean called me to tell me I had gotten the part, he just said, 'I just want to make sure you're joining us!' And I said, 'Absolutely!' It was only a day or two of work, but I was just thrilled." - pg. 20, Crystal Lake Memories
Buy Crystal Lake Memories
by Peter Bracke for more amazing interviews!
Filmography
The Great Outdoors (1988) (stunts)
Friday the 13th (1980)
What's the Matter with Helen? (1971)
Television
I Married a Centerfold (1984)
The Fall Guy (1983)
Where Is She Now?: Robbi Morgan has retired from acting and lives with her husband and two children.
Picture Gallery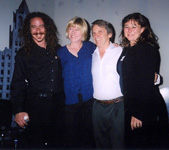 Pictures courtesy of Bong Tokin' Chuckles!
Send us information on Robbi Morgan!