Nick Savage - "Ali"


Contact Information:
Unknown

Biography: Not much biographical information is known about Nick Savage. In the 80's he had a very active television and movie career, mostly playing thugs or gang members. He had a reoccuring roll on the television series, Hill Street Blues, playing the pickpocket, 'Curtis Interruptus'. His last appearance was as a guard in the TV show, Swamp Thing, and appears to have retired from acting after that.
Quote: "I had never even heard of Friday the 13th before. I don't even like horror movies; they're not my cup of tea. And this was Part 3 I was going to be in? But my agent sent me to this audition anyway, for a gang member. And I had just bought a motorcycle, so I rode right up to the window of where they were holding the casting sessions. Steve Miner looked down to me on my bike and just said, 'Okay.' But hey, at the time, I was grateful for the part. Never turn down a job. There is no small part - just small actors." - pg. 79, Crystal Lake Memories
Buy Crystal Lake Memories
by Peter Bracke for more amazing interviews!
Filmography
Impulse (1990)
Harlem Nights (1989)
Clean and Sober (1988)
Coming to America (1988)
Cold Steel (1987)
New York's Finest (1987)
You Talkin' to Me? (1987)
Fright Night (1985)
Friday the 13th Part 3: 3D (1982)
Television
Carly's Web (1987)
Television Guest Appearances
Swamp Thing (1992)
Hunter (1987)
Matlock (1986)
St. Elsewhere (1986)
Murder, She Wrote (1984)
Hill Street Blues (1981, 1982, 1983, 1984)
Where Is He Now?: Nick Savage appears to have retired from acting.
Picture Gallery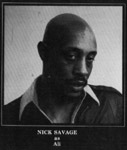 Picture (R) courtesy of Bong Tokin' Chuckles!
Send us information on Nick Savage!