All of the great fans that visit our website have many years of accumulating information about their favorite Crystal Lake slasher. Everyday those same fans lend that knowledge to others when they comment on the blog stories that out posted at this fine website. Over time, that knowledge that was posted as a comment in a blog gets pushed away as more blog articles are added. Wouldn't you like your Jason information to be found in a central location for all to find easily? Now you can contribute your Jason Voorhees knowledge directly to the website.
Our Fridaypedia already contains a vast amount of information, but we want the fans to add what they know about Jason Voorhees and feel like they own a piece of this website and the Friday the 13th franchise. It's very easy to do. All you need to do is sign up with a username and password and then you can start editing and adding information anytime you want.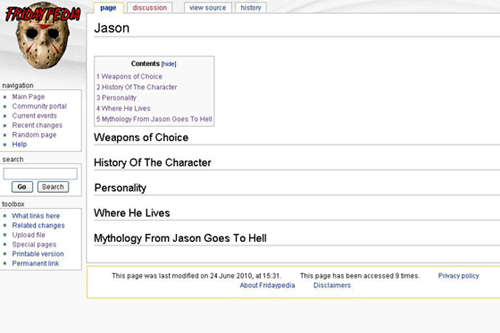 1. Sign up for the Fridaypedia
2. Start adding information about Jason Voorhees.
Lets see what kind of information everyone can add about good ol' Jason. I think we could be very surprised what is unearthed about Mr. Voorhees. Have fun everyone!