UPDATE: VOTING HAS CLOSED ON THIS DIVISION
Mothers are very important to their children's upbringing. Kids are known to be mirror images of their parents and exhibit the same peronality traits of their parents. This newest division showcases some gentle and some very tough mommas. You will notice a very important mother is missing from this division. She will be getting her own division in the near future. So, let us know who you think is the best momma to move on to the next round.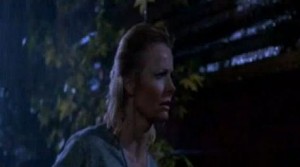 Mrs Jarvis (The Final Chapter)
She was a single parent raising two kids in the middle of nowhere. Mrs Jarvis had to be a tough mom as she raised to kids that kicked Jason's ass and sent him to the grave. It's too bad that she wondered off to investigate a strange noise or something and ran into ol' Jason waiting outside.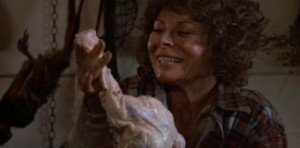 Ethel (A New Beginning)
Ethel has been gaining ground on more popular characters in the franchise as being one of the most recognizable and most loved by the fans. I can't even do justice by Carol Locatell's performance when writing this. She was amazing and so was that big dildo of son, Junior. "I'm gonna chop you into eaty beaty pieces my friend, just like that piggo over at that fuckin' crazy farm."
Mrs. Shepard (The New Blood)
I think that this momma would have made it to the end of the movie if it had not been for that dickhead Dr. Crews. She really laid into him right before her demise and I am sure she would have given Jason a pretty good run for his money. Hell, she produced a telekenetic daughter that completely owned Jason for almost 15 minutes of the movie. "You're not just a lousy doctor, you're a fucking coward"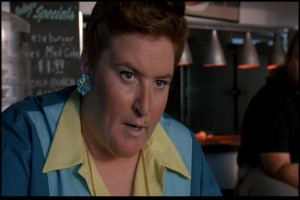 Joey B. (Jason Goes To Hell)
This, um, lady could hold her own, not only with Jason, but Ethel as well. I'd like to see a Joey B. vs Ethel movie myself. She is one tough broad. She makes them keep a baby in a box in the back room. I wonder if she kept her Ward back there in a box when he was a kid. It would explain a lot. Joey B had a loud mouth and Jason made sure to close it permanently.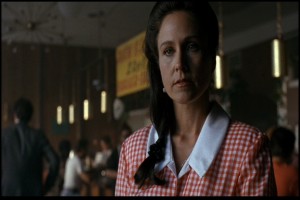 Diana Kimble (Jason Goes To Hell)
The sudden sibling of Jason. I am one of the few fans that really like the movie. I liked that they went back to Crystal Lake and tried to expand upon the mythology that the original movies created. Jason having a sister by a different mother isn't too far fetched as we have never been given a reason why Mrs. Voorhees was raising Jason by herself and where Mr. Voorhees ran off to. Maybe another wife and  family?
Diana hangs tough against Jason, even blowing out the back of his head. She raised a pretty tough daughter too. Her daughter, after all does send Jason to hell.