VOTING ENDED
Will the allegiance to Ralph come to an end this week? Or, will Ralph be able to overtake Tommy Jarvis and move one round closer to facing off against Jason of The New Blood?
---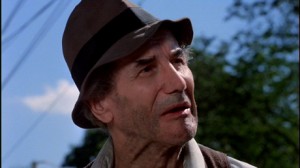 Crazy Ralph (Friday the 13th 1980)

Remember everyone, God sent him. Do you need anything else? I still can't believe how in shape this guy is. He rides his bike all the way to Camp Crystal Lake and the counselor training center and everyone else drives miles upon miles to get there. For a drunk, he gets around town pretty damn well.
Tommy Jarvis (The Final Chapter)
Tommy and Ralph have one thing in common. Both characters are Peeping Tom's! Tommy spends nights staring at Judie Aronson undressing. Ralph goes to the counselor training center and stares at Ginny undressing. Which perv would you rather pick to go on to the next round? There taste in women could factor in.