Excepted from Friday The 13th: How I Spent My Summer Vacation #2 Written by Jason Aaron, Penciled by Adam Archer, Inked by Peter Guzman, Colored by Jonny Rench, Lettered by Wes Abbot, Published by Wildstorm Comics.
Commentary:
For the two issues of this sombre little tale beautifully written by Weapon X's Jason Aaron in what is best described as "What if Jason Was The Iron Giant", Jason storms across the country on an epic mindless rampage facing soldiers, hicks, and somewhat of a sidekick in an afflicted young boy. Except the rampage is not so mindless after all – as we learn in the final two pages, Jason had a specific direction, destination and – touchingly – motivation in mind…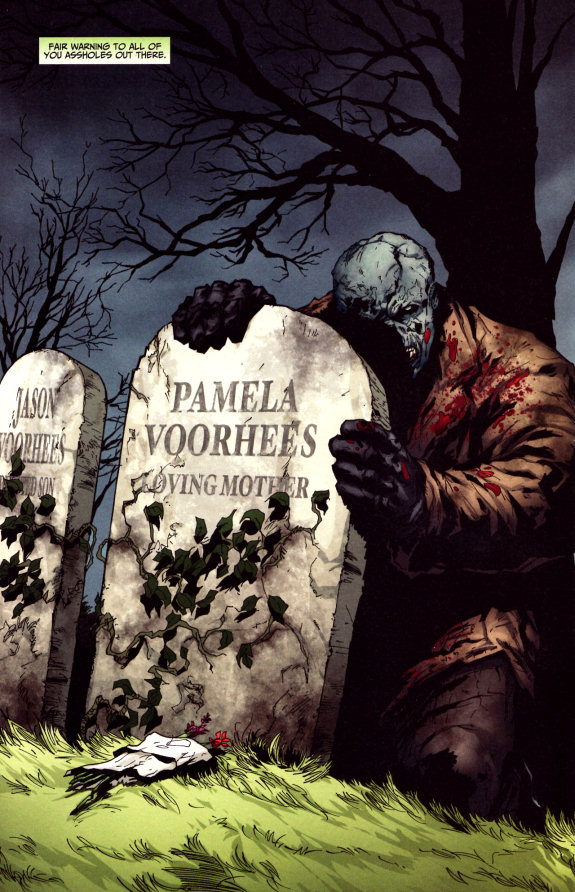 About Sunday Comic Digest:
Sunday Comic Digest is a once-per-week feature excerpting between 1 to 3 pages of a past single Friday The 13th comic (minus the most recent series at time of posting) taken out of context from the original issue for purposes of discussion. The intent is to display them on a preview basis, never to show a complete issue or anywhere close, expose fans unfamiliar with the comics to the material and thusly encourage purchases of the complete issue or collected series.