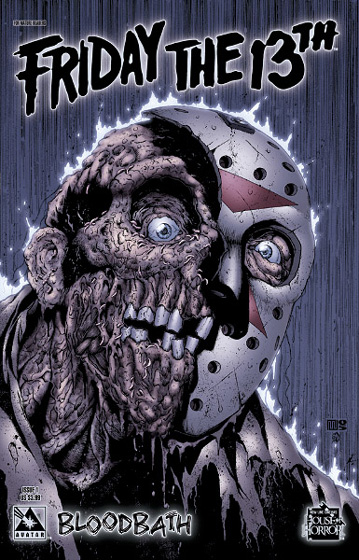 It's yet again another trip to 'Camp Blood' for some unlucky teenagers in Friday The 13th Bloodbath! This three issue series was written by Brian Pulido  and Mike Wolfer. It was published in 2005 and is worth hitting ebay for if you are a Friday fan.
The story seems simple at first.  After a hysterical prologue several teens are drafted in to help fix up Camp Crystal Lake before the kid's arrive. All the usual character types are accounted for. There is even a punk girl by the name of Violet which will ring a bell or two for fans of the film series.  It isn't long until the teens pair off to explore Crystal Lake and naturally each other.  Until Jason shows up and crashes the party. Then it's gore to the wall mayhem from then on to  the satisfying finish.
Pulido and Wolfer sketch a overall solid Friday tale. One I would love to see be turned into a picture at some point. At first it all seems over the top. Shadow organisations wanting to capture and make millions from Jason, cover ups and a genuine sad trait all of the teens seem to share in regards to the past. However if you can get over the lack of character development the story will own you.
Jason looks amazing in all three issues and the kills are great and nasty.  
Also get ahold of Friday The 13th: Fearbook. It acts as a cool sequel of sorts to the Bloodbath series. Jason returns to tie up some loose ends in a excellent show of one gal's determination to live.  Again great story and some impressive art which I liked more so than the art in Bloodbath. Check this series out. I urge you. You won't be sorry you did.
note: there is a twist of sorts to this tale. So I apologise for not going into much detail but you will be glad I never as the events unfold unspoiled before you!
Posted by Sanchez