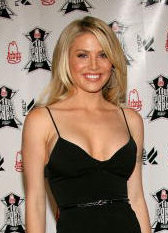 According to some guy at BD (it's always some guy), a hot chick named Willa Ford has been cast in the new Friday The 13th. She's also the wife of a hockey player… hmm, if it weren't two weeks after April 1st I'd give kudos to such a subtle joke like that.
3 Responses to "My Face Is Up Here, Pervert"
Chris Geddie Says:
April 15th, 2008 at 11:12 pm

She looiks cool. I wonder if she'll dye her hair, It seems in almost every movie the surviving female is blonde and never brunette or otherwise.

Ron Says:
April 24th, 2008 at 9:45 pm

I am the person who informed BD of willa ford being cast in the F13 remake.

Dusk Says:
April 25th, 2008 at 1:12 am

Thanks, she's hot.
Leave a Reply