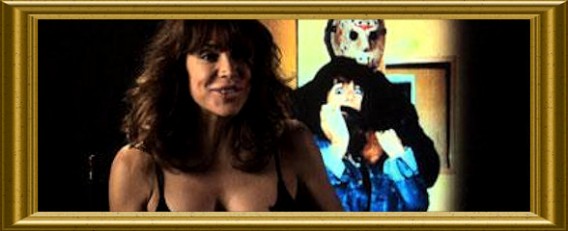 The Friday the 13th franchise is noted for having its fair share of scantily-clad victims, many of whom are either dispatched during or shortly after sex. Whilst several installments in the series have also boasted nudity, others have proven to be relatively restrained. Tom McLoughlin's Friday the 13th Part VI: Jason Lives was an attempt by Paramount Pictures to produce something more commercial after the explicit approach of the previous sequel, 1985′s A New Beginning. The cast had consisted of several young rising stars who would become staples of the genre throughout the 1980s, such as Thom Mathews (Return of the Living Dead) and Jennifer Cooke (V). Darcy DeMoss was born on August 19th 1963 in Los Angeles and spent her childhood living in the Hollywood Hills. Having grown up around the film industry, DeMoss landed her first role in a television commercial at the age of fifteen and, after leaving Ulysses S. Grant High School in Van Nuys, was hired for the titillating home video Aerobicise: The Beginning Workout in 1982.
Her first film role came two years later with an uncredited appearance in Brian De Palma's acclaimed thriller Body Double, which would also star Melanie Griffith and Craig Wasson (A Nightmare on Elm Street 3: Dream Warriors), although her break would come with Friday the 13th Part VI: Jason Lives in 1986. Appearing during the infamous RV sequence alongside John Travolta's nephew, Tom Fridley, DeMoss would be best remembered for the moment when Jason Voorhees slams her face through the wall of the van. During her sex scene with Fridley, writer-director Tom McLoughlin approached DeMoss and requested that she appeared topless. Despite having no reservations about nudity, the suggestion came as something of a surprise and so DeMoss refused. McLoughlin, however, had felt uncomfortable about suggesting such a thing but had tried to appease his producers, who felt that the core audience of the franchise had come to expect it. Incidentally, DeMoss had previously auditioned for A New Beginning but had allegedly backed out of the project when the director, Danny Steinmann, had requested that she show her breasts during her interview.
Her next role saw her appearing alongside A New Beginning's Tiffany Helm in the enjoyable women-in-prison flick Reform School Girls, which was directed by Tom (Hell Night) DeSimone and distributed by Roger Corman's New World Pictures. Intended as a satire on the genre, Reform School Girls starred B-movie favourite Sybil Danning as the tough warden of a women's prison. The following year, DeMoss returned to the horror genre with the slasher comedy Return to Horror High (no relation to Larry N. Stouffer's 1974 movie Horror High), which would also feature a pre-fame George Clooney who, at the time, was best friends with Jason Lives' Mathews. Perhaps her most successful project during the late 1980s was Can't Buy Me Love, a romantic comedy in which Patrick Dempsey starred as a high school nerd who obsesses over cheerleader Amanda Peterson.
With hair metal dominating the music scene, DeMoss appeared in the promo video Girlschool for glam band Britny Fox, which saw a class of young girls being lectured by their strict teacher, only for the walls of the room to come tumbling down to reveal the group performing on stage. The video was noted for all of the young actresses (which also included model Kim Anderson) wearing blouses and short skirts and dancing wildly in their class in front of the band. As well as her genre appearances, DeMoss began to build her résumé on the small screen with the sitcom Full House and the harrowing made-for-TV movie I Know My First Name is Steven, which told the true story of Steven Stayner, who was abducted at the age of seven and held captive and sexually abused until eventually escaping at the age of fourteen. Tragically, Stayner would die in a motorcycle accident ten years later, shortly after the film based on his life was screened on television.
Other minor roles during this era would include For Keeps? (which also featured Renée Estevez from Sleepaway Camp II: Unhappy Campers), the thriller Living to Die (alongside director Wings Hauser) and the sex comedy Vice Academy 3. Throughout the 1990s, DeMoss would appear in several softcore projects, ranging from Eden, produced for Playboy, Erotic Confessions and Deadly Illusions, whilst her work in the horror genre would continue with a TV remake of Corman's 1959 classic A Bucket of Blood. More recently, DeMoss has become known for her work with screen legend Tippi Hedren (mother of Melanie Griffith) on The Roar Foundation, a non-profit organization founded in 1983 which has offered support to exotic animals housed at the Shambala Preserve in Acton, California.
---
List Price:
$14.99 USD
New From:
$3.69

In Stock

Used from:
$1.99

In Stock

Release date June 16, 2009.