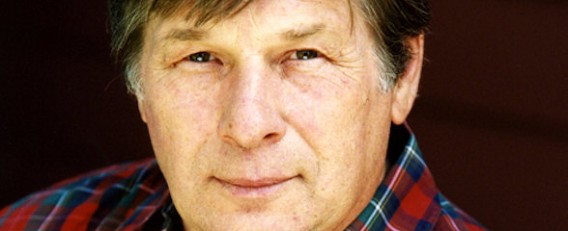 Two years ago I spoke to actor John Otrin regarding his role as Tina's father, John Shepard, in John Carl Buechler's 1988 sequel Friday the 13th Part VII: The New Blood. Unfortunately, the interview was never published and remained gathering dust until now. Otrin was suspiciously absent from both Making Friday the 13th and Crystal Lake Memories, as well as not taking part in last year's documentary His Name Was Jason: 30 Years of Friday the 13th, so this is rare treat for fans listen to John Otrin's experiences with Jason Voorhees.
Did you have any interest in Friday the 13th and slasher movies in general prior to your involvement in The New Blood and what was it about these type of movies that seemed to attract such loyal fans?
Everyone loves a great story … and everyone loves a great horror film! I remember in high school reading The Modern Prometheus (Frankenstein) by Mary W. Shelley. I kept reading the story and I could not put the book down. I think all fans of horror films are very loyal. We grew up watching them, having the tar scared out of us, in the safety of a movie theatre. That's why my film company, Laddie O Productions, has agreed to 'revive' my character in a new graphic novel and film franchise, Scattered Bones (El Huesos Regados).
What kind of threat do you think the Nightmare on Elm Street franchise placed on Friday the 13th and what effect did it have on The New Blood?
I think each new film franchise helps the other. So, it's all good! Freddy was evil in life and death and Jason became evil only after death.
How did you first become involved in The New Blood and what were you first impressions of the script? What was it about the movie that appealed to you?
The casting director (Anthony Barnao) had seen and liked my work and brought me in for an audition for the director (John Carl Buechler). The working title was Birthday Bash and I knew it was a horror movie. Every new film, horror or any genre, is an exciting challenge. So, I was very glad to read this new script for The New Blood and, as a movie, it has stood the test of time with fans.
Were you hesitant to take a role in a franchise as despised (by critics) as Friday the 13th, and did you have any issues with the level of violence and nudity in the movie?
No, I wasn't hesitant at all. (Critics are critical!!! What else is new?) I knew it was a great film franchise and, at the time, I was happy to be part of this new film. What matters is that the fans enjoyed the movies and have remained loyal.
How quickly did Kane Hodder settle into the role of Jason and how would you describe your working relationship with him? Did you perform any of your own stunts in the movie?
The only stunt I did personally was breaking through the wooden boards of the pier and bringing Jason (Kane Hodder) down with a chain to save my daughter, Tina (Lar Park Lincoln). I was impressed with Kane Hodder. Our working relationship was professional and good for both our careers. As for the other stunts… when Kane approached me, I suggested that he handle the more difficult stunts since he was a professional stuntman. But for me, there were two very dangerous stunts, and because of insurance considerations they were handled by two different stuntmen, doubling for me. One was the hydraulic pier, on location in the swamp, where Shepard had to go into cold, alligator-infested water. The other was in a tank in Mobile, Alabama where the guy was weighed down and had to remain underwater for the length of the shot… Both of these were pretty dangerous. I really appreciate what these guys did to make me look good!
Which special effect would you have said was the most effective and which death was the most disturbing for you?
I think the most effective special effect for me was in the Director's Cut of the movie, where I appeared in three different stages of 'zombie decay.' But it never was seen in the edited theatrical release. And I guess my own death should have been the most disturbing to me. It certainly disturbed my children, but hey… I enjoyed it.
What were your thoughts on the rather abstract ending where Tina brings her father back from the dead to pull Jason down into the lake? Do you think that the telekinetic aspect of the script worked well without becoming ludicrous or clichéd?
The abstract ending resulted from the director not having the final cut of the movie. (You have the picture where Jason and I appear as zombies… one good, one evil… Guess who's the good guy?) The ratings board didn't allow John Carl Buechler to include these shots in the final release because of their graphic nature. If the Director's Cut of the film had prevailed, the telekinetic aspect would have been 'crystal' clear.
How did John Carl Buechler balance his duties as both director and FX artist and was he easy to collaborate with?
Hey, Carl's a pro and I have nothing but respect for what he accomplished. He's great, and I'm proud to have worked together with him on the film.
Rumour has it there was a deleted ending where Jason jumps out of the lake and attacks a fisherman. Do you know why the filmmakers chose not to use this?
I don't remember that scene even being in the script.
Do you think that the producers were setting up Tina for further battles against Jason or was this movie to be her only story?
Well, you would have to ask the producers. But from what I saw on location, it appeared to me they were heading toward a future showdown between Jason Voorhees and John Shepard.
Looking back on the movie twenty years later, are you proud of your involvement in the franchise and how well do you feel The New Blood stands up against other horror movies of the era?
Proud? Absolutely! Does The New Blood stand up well against other horror movies?? Sure does! If it didn't, we wouldn't be discussing it right now! And Laddie O Productions wouldn't be developing a new graphic novel and film franchise, Scattered Bones.
---
List Price:
$14.99 USD
New From:
$5.75

In Stock

Used from:
$1.52

In Stock

Release date September 15, 1988.