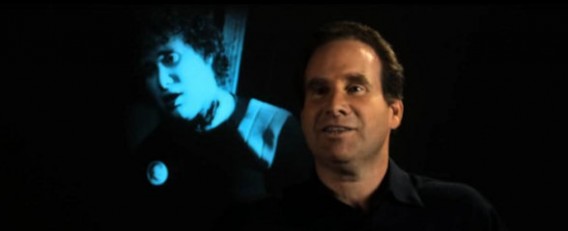 Larry Zerner's break into the movie industry came almost by accident when he was discovered on the streets of Los Angeles handing out tickets for a screening of George Miller's Mad Max sequel The Road Warrior. This would lead to the eighteen year old theatre graduate landing the role of practical joker Shelly in Paramount's Friday the 13th Part 3 which, as with The Road Warrior, would also feature a villain sporting a hockey mask.
Although Shelly would prove to be his only famous role, Zerner would earn the distinction of being the character that Jason would take his infamous mask from. Zerner now works as an entertainment lawyer in Los Angeles.
Larry Zerner discusses his role and working with Steve Miner on Friday the 13th Part 3.
When did you first meet Steve Miner? Was it true that you were literally pulled from a street corner for the audition?
I first met Steve at the audition. I had been discovered on a street corner by the screenwriters (Martin Kitrosser and Carol Watson), who thought that I would be perfect for Shelly. I gave them my agent's number and a few days later got a call to go audition. The only real discussion I remember having with Steve about the role was that Steve told me not to act, but just to be myself.
How much of Shelly was really you? Were you a practical joker by nature and how much freedom did Steve give you to develop your character?
A lot of Shelly was me at the time. While I wouldn't have played the practical jokes that Shelly did, I certainly understood his insecurity and his desire to impress Vera. There wasn't a whole lot of developing the character because I pretty much just tried to figure out how I would react in those situations.
Certain people claimed that Steve was under so much pressure to deliver effective 3-D effects that actors didn't get the support they needed. Would you say this is true or did you find him very supportive to you and the rest of the cast?
Certainly, Steve and the crew were much more worried about the 3-D effects than the acting, simply because for this movie, the 3-D was the most important element. No one was going to come out of the movie and recommended it to a friend by saying, "The 3-D is terrible, but the acting is terrific." But, that being said, while I would have liked a little more feedback after certain takes I wouldn't say Steve was unsupportive.
Apparently, Dana Kimmell insisted on various changes to the violent and sexual content in the movie. How did Steve react to this?
The story is just not true. It's one of these myths that arose after Dana gave an interview to Fangoria. Dana addressed this issue in the Crystal Lake Memories book.
Your character was responsible for the now-iconic look of Jason's hockey mask. Whose decision was it and where did the mask come from?
I think everyone working on the movie has taken credit for coming up with the hockey mask. I have no idea who actually came up with the idea for using the hockey mask. No one consulted me.
Who did you connect most with on set and why?
I remember hanging out a lot with Jeffrey Rogers, Tracie Savage and David Katims. Why? Just the way it worked out.
Did Steve seem like he really wanted to make the movie? Many people associated with the series are ashamed of their involvement, and Steve was only just starting out as a director.
I saw nothing to indicate that Steve didn't want to make the movie.
What made you decide not to pursue acting after Friday the 13th Part 3? Did the movie open any doors for you or were you happy to leave it all behind? Would you ever consider returning to the big screen?
It wasn't really a choice. I was eighteen when I made the movie and stayed in the business until I was about twenty-five. But it's very hard to be a successful actor and, after seven years, I didn't see it happen. So I went to law school and became an entertainment attorney and don't regret it at all. I have a great practice with some amazing clients, including some with strong toes to the horror industry (e.g. Dan Farrands, writer of Halloween 6, and the upcoming The Girl Next Door, and George Lutz of Amityville Horror fame). I've kept my Screen Actors Guild membership over the years and would certainly think about taking a role in a movie if it fit into my work schedule. But it's not something that I'm actively pursuing. But if anyone out there is looking for an entertainment lawyer in Los Angeles, please visit www.ZernerLaw.com."
---
New From:
$9.49

In Stock

Used from:
$2.67

In Stock

Release date June 16, 2009.