Interviews
Two years ago I spoke to actor John Otrin regarding his role as Tina's father, John Shepard, in John Carl Buechler's 1988 sequel Friday the 13th ...
More Interviews
Producer Anthony Masi had already gained acclaim with his Halloween retrospective 25 Years of Terror when he teamed up with Crystal ...
Along with Anthony Masi (Halloween: 25 Years of Terror), Thommy Hutson co-wrote and produced the ultimate retrospective on the Friday the ...
Along with fellow artists Greg Nicotero and Howard Berger, Robert Kurtzman founded KNB EFX in 1988, which would become one of ...
Dean Lorey had graduated from New York University in 1989, where he had worked on a screenplay entitled Johnny Zombie. A ...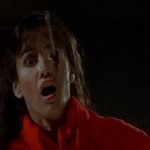 Florida-born Catherine Parks first gained acclaim as runner-up in the 1977 Miss America Pageant and had made her acting debut in ...
At twenty-six, Paul Kratka was the oldest of the principal cast members of Steve Miner's 3-D sequel Friday the 13th Part ...
Despite having missed out on the opportunity of working on George A. Romero's seminal zombie classic Night of the Living Dead ...
Zack Ward's brief-yet-memorable cameo in Freddy vs. Jason, in which he would appear in the nightmare of Mark (Brendan Fletcher) as ...
Even before Freddy vs. Jason was released at cinemas, a young rising executive at New Line Cinema was already plotting a ...