Retrospectives
Since his official introduction in 1981's Friday the 13th Part 2, the character of Jason Voorhees had gone through numerous makeovers and had been adapted so ...
More Retrospectives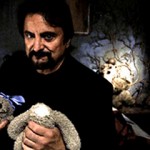 For many, 2009 was the year that Jason Voorhees dominated the horror genre. The franchise enjoyed a highly successful reboot with ...
Freddy vs. Jason had taken a total of sixteen years to make it to the big screen and in that time ...
Jason X had continued a commercial decline for the Friday the 13th franchise that had begun in 1985 with A New ...
Despite gaining a cult following on VHS after its mediocre performance at the box office in 1993, Jason Goes to Hell: ...
The lukewarm reception that Friday the 13th Part VIII: Jason Takes Manhattan had received at the box office in 1989 had ...
By the end of the 1980s the slasher film had all but run its course. Whilst franchises such as Halloween, Silent ...
Although Jason Lives had fared better with both fans and critics than its predecessor, the success of the Friday the 13th ...
With the latest installment, 1986's Friday the 13th Part VI: Jason Lives, earning almost $2m less than its predecessor at the ...
With 1985's Friday the 13th Part V: A New Beginning not only disappointing critics but alienating the fans, Paramount soon realised ...