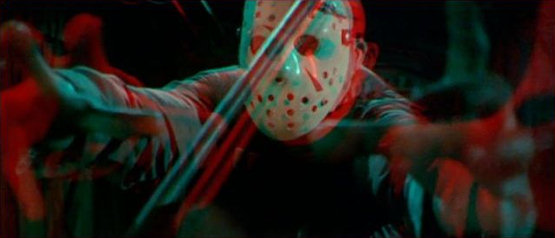 So we know a bastard cropped reissue of the reboot is coming from New Line's home division but over in Paramount land plans are afoot to drop a stack of Friday the 13th releases onto the market on October 4. Now obviously you know that Paramount will almost always disappoint you, so no never-on-blu-ray releases. Let's take a look at what they are pooping out, then.
Friday the 13th DVD Collection
Amazon have no information on this – but DVD Empire have more, including a fair price of $37. The proper name is Friday The 13th: 2011 DVD Collection – Limited Edition Gift Set and the product item page gives a description. Neither site list a number of discs, presently.
Return to Crystal Lake like never before with Friday the 13th Kill. . .Kill. . . Kill. . . Collection Limited Edition DVD box set. They're all here: from the first Friday the 13th: Uncut to Friday the 13th: Jason Takes Manhattan. Re-experience the terror and the gore from the exhaulted executioner who never dies in this definitive collection of all 8 of the Friday the 13th films.
Okay, that's not too shabby. The From Crystal Lake To Manhattan boxset from 2004 is out of print so this would collect the Deluxe Editions into one set. And that will be handy for those that don't have 'em, especially considering some of the later entries are now scarce themselves.
Friday the 13th Blu-ray & Friday the 13th DVD
The 1980 original will be back on the market in what is presumably a reissue. Can we get some better cover art then the Deluxe Edition, Paramount? Although it looked certifiably badass, the killer on the cover looked like they were wearing black leather. And I don't know about you but the thought of Mrs Voorhees all leathered up makes me throw up in my mouth a little. Oh okay, and a little turned on.
Friday the 13th Part 3 Blu-ray & Friday the 13th Part 3 DVD
Hopefully it's just Amazon's lazy, inaccurate placeholder details but they are listing the ratio for these as 1.85:1 when the previous releases were 2.35:1 which was what the film was shot in. If it carries through with a cropped 1.85:1 ratio, I don't have to tell you why that's a bad thing for purists. In an ideal world Paramount would use these re-releases to offer up a better 3D print. The existing one was lambasted.
Friday the 13th Deluxe Edition Four-Pack
Coming earlier than the others on September 20, this will contain the first four Deluxe Edition DVDs. It's a simple enough dumping of old stock. Of minor note, DVD Empire already stock a blu-ray version of that upcoming set, called Friday the 13th: 4 Movie Collection. It's part of a Paramount Blu-ray sale and is listed as having only 1 Disc. While I would love to report that Paramount just discreetly dropped Friday The 13th: The Final Chapter onto the Blu-ray format, there's evidence on that page to suggest it is a glitch on DVD Empire's part and the release is actually just the first film with an incorrect product title.
When will Paramount learn? Maybe after they're done whoring Star Trek, their "respectable" genre franchise. Anyhow, someone must have fucked up by letting some of those Deluxe Editions turn out so good! Think we'll get parts 4-8 on Blu-ray before there's another format jump? Let us pray.