Archive for Video Game
You are browsing the archives of Video Game.
Mortal Kombat may not have chosen Jason, but another new game has. Sort of. Newly available First Person Shooter Dead Island looks fabulously lush and dangerous, like a Far Cry meets Resident Evil. There's a surprise deep inside, a certain hockey masked fellow wielding a machete.
Just recently I was blasting Freddy beating Jason to Downloadable Content in the new Mortal Kombat game. That would have been the end of it, but there's some follow up info to cover, and you know damn well I'm gonna yap your ear off. As I type this up, I'm watching the Mortal Kombat Legacy [...]
I just got the new Mortal Kombat today after an agonizing wait of several weeks because my Ebay purchase had a 50% chance of being identified and seized by Customs – y'see, the game was banned here in Australia for reasons to convoluted and silly to explain. Coincidentally the law was rectified today but I [...]
Cool to see more horror representation on XBox Live! GT: VOORHEES JASON from the forum dropped us word a Jason-styled hockey mask is available for Xbox Live animated avatars. Below: The model, and how it looks on my digital double (pay no attention to the clothes, I've made no specific effort to look Jason-like, just [...]
Thanks to a heads-up from site visitor DrJohnMan, we now know that Warner Bros. has officially asked to have Freddy and Jason pulled from the very popular Terrodrome fan videogame. The creators of the game are going along with the official request from Warner and Freddy and Jason will no longer be apart of the [...]
This is a day or so old, but Shock Till You Drop posted up some screen caps of the new zombie video game, Dead Rising 2 and a familiar mask appeared. In the pic below, you will notice a hockey mask very accurate to the screen used mask being worn by a user. Apparently, players [...]
I was tipped of to this awesome T-shirt by a visitor that shared something else with us that will be featured this Friday. There may be a number of our visitors that already are aware of the this Tee, but for those of you that do not know and are huge fans of the old [...]
I had never picked up on this game back when it was reported to be in development some years ago, but there was talks to produce and sell this "reverse survival horror" game, called Campfire. The premise is exactly what many Friday the 13th fans have wanted from a video game experience, no matter how morbid [...]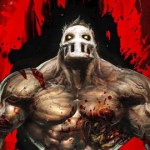 Just announced over at the official Twitter account, the new trailer for the brand new Splatterhouse video game is available for viewing. This game is definitely not the side scrolling game that many of us grew up with in the 80′s and into the early 90′s. I knew that the new game would not have Jason's [...]
We have talked about this game previously at fridaythe13thfilms.com, but I thought I would take the opportunity to reintroduce this relic of gaming systems past. FRIDAY THE 13TH: The Computer Game was released by Domark Ltd in 1985 to be played on the Commodore 64. The one thing about this game that you notice right away is [...]