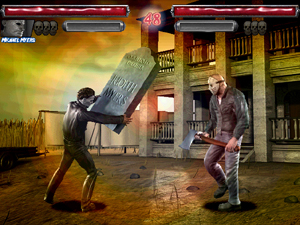 Thanks to a heads-up from site visitor DrJohnMan, we now know that Warner Bros. has officially asked to have Freddy and Jason pulled from the very popular Terrodrome fan videogame. The creators of the game are going along with the official request from Warner and Freddy and Jason will no longer be apart of the game.
On Oct 25th, Orion pictures officially asked to have the Ash character from the Evil Dead movies removed from the game, but now having Jason and Freddy pulled put two more big nails in the coffin of the spectacular fan project. The creators of the game mentioned on the official Terrordrome website that they are seriously contemplating stopping work on the video game with major characters now removed.
This is a real shame for genre fans who just want a good experience in a gaming world with their favorite slashers in cinema. When Trancas International went after the mask making community to cease all sales of custom masks with the likeness of Michael Myers, it put a huge dent in that community. Not long after, it was revealed that Trancas was creating their own Michael Myers mask for sale. Could Warner Bros. and other companies be gearing up to create their own video games of our beloved slashers? Only time will tell!