Archive for Busts
You are browsing the archives of Busts.
I am going to do a full video review on this piece this Saturday, but I simply could not wait to show a glimpse of what I received this week. I know there are a few others that have received their copies of this and posted their pics on other forums, but to see this [...]
We have seen a lot of fan and professional interpretations of Jason in bust form from Friday the 13th Part 7: The New Blood. There is, however, one full size, larger than life bust that is just completely awesome! The bust that we speak of was created by Bump In The Night Studios and has [...]
Now this is a truly unique project that no one we know about has ever attempted before. Near the end of Jason Goes To Hell, the hell baby is unleashed and searches frantically for a relative to enter into so Jason can be reborn. Well, Eric Scherer is in the finishing stages of his Jason [...]
UPDATE: Josh, the creator of this mask stopped by to give the url of his website. Check out Crazy Ralph and also his Part 3 Jason. Awesome! http://www.wix.com/deadendhollow/DEAD-END-HOLLOW I posted about this back in August, but now it looks like the Crazy Ralph bust is completed with paint job. Over at Scab's Horror Blog, scabby [...]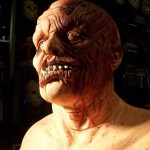 "Spaz" emailed photos of his custom paint up to us using a bust he purchased from MMFX. I love the detail and colors he chose for the bust as this is a beautiful piece to add to any fans collection. Congratulations on a great paint job! Also, check out all of those hocks on the [...]
Say what you will about Freddy vs Jason, but I am always excited to see screen accurate depictions of Jason, regardless of the movie. This bust, created by Howard S. Studios, is flawless. It is perfect and looks exactly as Jason did in the movie. To see more about this bust and other creations, visit [...]
This is awesome and is the first time I have seen this for sale in a while. Check out the seller's description: This is the highly sought after and VERY RARE "Impostor Roy" by artist Jeremy Bohr This is from the original run and is signed by the artist and numbered on the inside. This [...]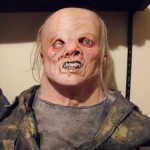 I would of liked to see more closeup pics and from some different angles, but I like the clothing that is included with this bust. Check out the description below for more information or go to buy the bust Dont let this one slip away, latex bust foam filled, cannot be worn. awsome display piece [...]
I really like both of these creations from Part 3. The hockey mask is striking in it's accuracy and I think everyone will agree that this and the bust are spot on with the movie. To see more pictures and to find out more about these items, check out jasonlivessince1980 at his new blog, http://jasonlivessince1980.blogspot.com/.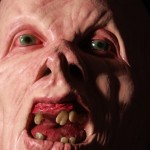 I found these pics at Horrorbid.com. Known as "Brute", this mask accurately depicts Stan Winston's makeup for Jason in the alternate ending to Part 3. The alternate scene and Jason makeup were ultimately scratched, but I still think it's a cool look for Jason and probably a better ending as well! Alternate Ending Photo of [...]