Before I begin, these are MY reasons why I think The Final Chapter is the best. I am not saying this is Ten Commeandments set in stone, this is law or else kind of remarks. Please read with an open mind. I am prepared to be lashed out at or, even better, agreed with.
Part 4 brought me into the franchise. It started my growing love for film. There has always been something special about this movie that caught my attention. As I got older I realized the things that made this movie work for me more than any other in the franchise. Now, I love every movie in the franchise, but Part 4 to me is the benchmark. It shoud be the film that anyone who is being introduced to the franchise for the first time should watch first.
Reason #1 Why The Final Chapter Is Awesome
Bruce Mahler from Police Academy gets his head debacled!

Reason #2
Bonnie Hellman pissed that Lawrence Monoson asked if she had a sister!

Reason #3
Crispin getting pumped for River's Edge (Click Pic to see Crispin in action)

Reason #4
Crispin finding out he really was a dead fuck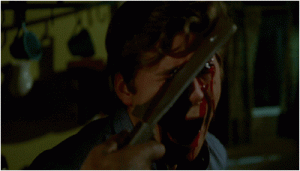 Reason #5
Judie Aronson showing her assets then being embarrassed and starring in Weird Science. She censored her nude photo from this post. Sorry Guys!

Reason #6
Ted White kicks everyone's ass as Jason. Not only does he run with authority to get Trish next door, but he knows that he's a bad ass. I know that Richard Brooker may be his equal. Brooker had a cockiness in his portrayal as Jason, but Ted White didn't have to show it, he knew he was a pimp.

The Final Chapter took the formula that was created by the original and that was expanded upon by Parts 2 and 3 and polished it up into the seminal Jason/slasher movie. The production value on this movie far surpasses the previous entries and also had established actors who had worked in the business before getting this gig. Friday movies after this did look even better in terms of production, especially Jason Lives and Jason Takes Manhattan. However, none of the other movies can compare to the characters, writing, acting, special effects work and direction that The Final Chapter has.
Alright now, everyone, let the bodies hit the floor!