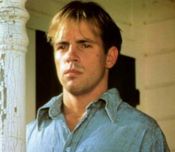 Yeah um, Jason and Freddy and Ash returning, that's good and all, but what I was excited to hear about was our man the great Tommy Jarvis returning! Sure, it's only in comic book form, but it's a medium not to be discounted.
So given that the character is the most popular non-Jason entity in the series with fans, and the fact this is likely our only chance to see the character live on: what has he been up to? I guess a more appropriate question would be, will he be based on the performances of Corey Feldman, John Shepherd or Thom Matthews? I personally preferred the subtly twitchy, psychologically textured take of Shepherd myself, though I'd expect them to take Feldman's Tommy and show him grown up. Great as the actor may have been, I didn't much care for Matthew's Tommy. It was more the fault of the script that turned him into a generic young Crazy Ralph, and the proof in the failure of that is that they never used the character again after Jason Lives. But anyway, on with the four-color fun:
This afternoon at Dark Delicacies in Burbank, California, I got to talking with Jeff Katz and artist Jason Craig of Freddy vs. Jason vs. Ash who were in the area signing copies of the Dynamite/Wildstorm graphic novel. They opened up a bit and gave me some dirt on the next chapter in the series Freddy vs. Jason vs. Ash 2 which has been in the planning stages since last November.

Katz revealed the story will pick shortly after the first mash-up. It begins with the U.S. government venturing out to Crystal Lake where they exhume the Necronomicon from its icy tomb. Jason Voorhees is loosed in the process donning his famous hockey mask guise, now partially blown away from Ash's shotgun so it exposes Jason's shredded, toothsome jaw. (I was fortunate to see some rough artwork, Jason now looks like a Grim Reaper of sorts.) The government makes off with the Necronomicon and begins to tinker around with it. Freddy is somehow brought back…

And so are many of the veterans from previous Nightmare on Elm Street and Friday the 13th entries.

Katz revealed Tommy Jarvis (from Friday), Dr. Gordon (from Nightmare 3) and many other survivors of Freddy and Jason's reign of terror join the fray this time. "I don't want to ruin any of the surprises, but there are a ton of cameos," Katz said. Ash, naturally, is making a return; enjoying retirement until he's called into the action.

From the sounds of it, Katz and Craig are working on a four-part mini-series. Oh, and the title? Freddy vs. Jason vs. Ash 2: Nightmare Warriors.

Currently, no street date has been set, but it will likely hit comic shops later this year.
Source: Shock Till You Drop