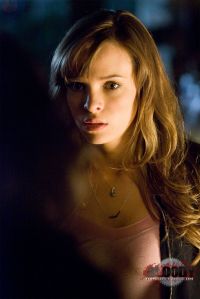 Bloody Disgusting talked with the beautiful actress about her new movie, The Crazies, and also her experiences on Friday The 13th. She describes some of the scenes that were edited or cut.
"The original idea was that my character got out onto the bus with Jared, Amanda and Derek," Panabaker told press. "I think they couldn't get a location that worked and there was a really cute line about, 'Maybe on our next date we'll do something a little more romantic,' [and] then my character gets it. [It's] after this big fight involving a fire extinguisher and all this crazy stuff. But when it came time to actually shoot the bus scene, they decided I couldn't be at the bus. They had to come up with a death for me that came before those characters got to the bus."
Read the rest of the article to see what else was cut and hope thatwe get a huge Blu-Ray and DVD release sometime this summer.