Dusk has already shown you the cover art for the UK release of Friday the 13th. Now, check out this ad for the upcoming US release of the DVD featuring a listing of all of the special features included on the theatrical and uncut DVD/Blu Ray releases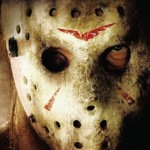 I get 100 emails a day asking for the USA artwork/release date - what, like I somehow forgot to post that stuff if I have it? Sheesh - when I know, you'll know. But those delicious limeys over in the UK are getting it on July 27th and here's the art. Pretty groovy, I reckon.
Source: [...]
Ugh. I can't even begin to list the things wrong with most these artworks, but I'll leave that to you cats. Nice one, Paramount - just when we thought you couldn't do worse than the covers for the older DVD editions.
Source: Fangoria
LOL @ fan commentaries being axed. Not trying to be snarky at all as I myself have been part of commentaries and magazine articles as someone representing "the fans", but it's humbling to know that the quality of DVD special features would really drop if they started accepting easy fan participation and their/our second-hand info [...]
Blu-Ray.com posted news about the announcement earlier today. Here is what they had to say.
Paramount Home Entertainment has announced that they will bring the first two sequels to the legendary horror franchise 'Friday the 13th: Part 2' and 'Friday the 13th: Part III' to Blu-ray on June 16th. For both releases, video will be presented [...]
MrMike posted news about this yesterday in the A Second Chance For Friday The 13th blog and now www.blu-ray.com posted the rumor as well. So, I decided to share with everyone who doesn't know that it is rumored that Friday the 13th Part 2 and Part 3 will be released on Blu-Ray sometime in July. [...]
These covers for Standard and Unrated versions of the new Friday on DVD have been floating around various blogs. But something about them doesn't sit quite right with me - for one there are a number of really awful design decisions (i.e. placement of taglines and other elements in relation to each other) that call [...]
The slasher monster-mash is now actually already available in Canada (Amazon CA) but we were tipped off by fan Bryan Sumner that it's coming to the States next week on February 17th! However, on closer inspection since the US distributor is one '101 Distribution' who tend to import much of their stock, so I'd fathom [...]
Here's a great new interview with Dan Farrands, (pictured here at last year's Writer's Strike with The Shape) the friendly director of His Name Was Jason (now availible, for those of you sleeping inside a zipped camping bag). Pay close attention to his comments about the DVDs for part 7 and 8. Long lost [...]
Bloody-Disgusting reports that they have learned Paramount is planning a Blu-Ray boxset much like the previous boxset. Please read the following:
"This past Tuesday Paramount Home Entertainment released the original Friday the 13th on Blu-ray, while sticking parts 2 and 3 on DVD (again). We learned over the weekend that Paramount is already prepping to release [...]