Archive for October 2008
You are browsing the archives of 2008 October.
Just wanted to take this opportunity to wish all of our excellent readers a very Happy Halloween. Please know that we appreciate each and every one of you and we hope you continue to stick with us. Keep on stopping by, keep reading and definitely keep commenting. We appreciate everything you do.
Happy Halloween everyone!
 
Tony C.
Streeting Feb 3rd, 2009 - a collection of the 3 New Line Jason pics, now under the banner of Warner Home Video. These are simply the same editions from the past, but thinking of the future this set will be a good gateway for new fans to pick up the old flicks. It also contains [...]
It has been announced that Jason will be making his second appearance in Mezco's well known Living Dead Dolls series! Previously, Jason appeared with his look from Friday the 13th part 3 (see pics in our interview with Mike Drake of Mezco HERE). This time around, we will see Jason popping up in the series [...]
If you attend, be sure to have him sign your DVD copy of Anchor Bay's His Name Is Jason - which he hosted! From Fango:
Makeup FX legend Tom (DAWN OF THE DEAD) Savini has joined the entire 2009 FANGORIA's Weekend of Horrors tour and will be appearing in all three cities. Savini will first hit [...]
The official teaser one-sheet has appeared on poster retailer Moviegoods.
WHOA! Looks like the official teaser trailer just hit a day early. Enjoy!
NOTE: This is not what was shown at The Scream Awards. This is what will be shown theatrically alongside Saw V
You can also access the trailer as well as check out a few other goodies on the official site for the film which [...]
Just in time for Halloween! Thanks to 'Horror Film Themes'.
Bloody-disgusting put up a report after attending the taping of The Scream Awards (airing Tuesday night on SpikeTV). This is what they had to say.
New Line Cinema and Warner Bros. Pictures disappointed crowds by showing the same footage of Friday the 13th that was debuted at the San Diego Comic Con in July (watch it [...]
Today we got word via the cbox on our page (thanks Tony27) that the plan is to unveil new footage of the upcoming relaunch of Friday the 13th on Tuesday, October 21st (9:00-11:00 PM, ET/PT) on SpikeTV during their annual "Scream Awards". After digging a little deeper, it seems nobody really knows 100 % sure [...]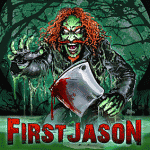 It's not every day that someone gets the chance to cement themselves as a big part of horror film royalty. But at a young age nearly 30 years ago, a young man by the name of Ari Lehman cemented his horror movie legacy by popping out of the lake to reveal the very first onscreen [...]