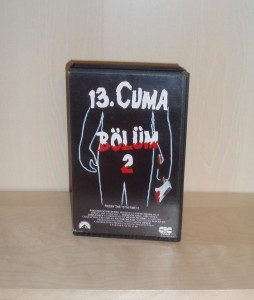 A friend sent me photos of the Friday the 13th Part 2 VHS distributed in Turkey back in the 80's and it had be laughing hard. I immediately thought of the fans here on our blog and the recent discussions of the new DVD covers being released in June.
Everyone knows that the Part 6 DVD released a few years back had Roy from Part 5 featured on the back of the cover. A clear violation of everything sacred in Friday the 13th. Well, the Turkish Part 2 video features almost entirely Part 3 pictures on the back of the cover. Check out the pictures of the cover for yourself. If you look in the middle, the cover does have a a picture of sackhead Jason.
The question is, which is a bigger violation in your mind? I think I know how most of you are going to answer.