Archive for September 2008
You are browsing the archives of 2008 September.
Here are some more names interviewed for the upcoming landmark doco, His Name Is Jason. Happy to see some remake faces in there! Harry Manfredini Steve Daskawicz Richard Brooker Ted White Dick Wieand Tom Morga Ken Kirzinger Derek Mears Amanda Righetti Travis Van Winkle Nick Mennell Marcus Nispel Brad Fuller Greg Nicotero Tom Savini Read [...]
It looks like we don't have to wait until February to see what the new viseage of Jason Voorhees will look like in the upcoming relaunch of Friday the 13th! Click below to see some spoilerific pictures of of the all new look of Jason Voorhees. I think a lot of fans will be happy [...]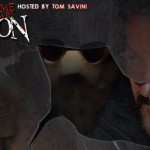 One of the giddy tidbits you'll discover about His Name Was Jason is that not only is Tom Savini hosting it, but that they've been filming linking vignettes for the FX legend to star in, which recreate key scenes from the Friday The 13th series. You'll be sure to write me off as a minutia-obsessed [...]
As I've mentioned here a time or two, I got the chance to attend a recent Q & A session at The Scare Fest in Lexington, KY, featuring a reunion of those involved in the original Friday the 13th. The Q & A was quite entertaining, often hilarious and covered each panel members experiences in making this [...]
One of our writers Christian Sellers has been away from the site for a while, but he's been busy on something of interest to Friday fans! GoreZone's Halloween issue will have a treat for fans of Jason Voorhees, with a special Friday the 13th booklet that charts the history of the franchise from the original [...]
After a lot of educated guesses by various fans (and some of them correct) Bloody-disgusting has confirmed that the official trailer for the upcoming relaunch of Friday the 13th will be attached theatrically to Lionsgate's Saw V. Saw V hits theatres on October 24th.
Now that the email system is working 100% again I thought I'd take some time to speak about it. For years now this site has offered a free fridaythe13thfilms.com email box – you can easily sign up and login via the main page of the website. It's no replacement for the awesomeness of Gmail, but [...]
Our FridayThe13thFilms.com free email addresses have been down with some tech difficulties. If you're one of the many users of this service, please use an alternative mailbox until further notice. It's very rare that problems occur with the mailbox but I am working to fix the issue. I will update this post as I receive [...]
It's already widely known (and has been reported here) that there are plans for a new edition of Friday the 13th on DVD. Well, here's even better news for fans to sink their teeth into. Earlier today ,while attending "The Scare Fest" in Lexington, KY, fans were treated to an awesome piece of news.
Easily one of the most unique Friday the 13th/Jason products available, Gentle Giant brings fans the Animated Jason Voorhees Maquette! This excellent conceptual statue takes the iconic character Jason Voorhees and paints him in a whole different light. The concept is simple. What would Jason look like if he were brought to us in modern [...]