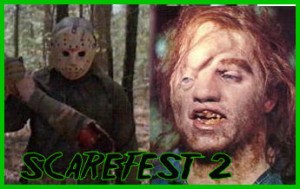 Those of you who attended the 2008 Scare Fest Horror & Paranormal Convention got more than you bargained for! The event featured a very successful Friday the 13th reunion and a side order of Kane Hodder! The reunion and convention are featured very nicely in the upcoming (Feb 3) Friday the 13th: Deluxe Edition DVD's that we recently reviewed!
Hard at work on the sequel to the 2008 event, Scare Fest 2009 is taking shape already! Already announced (with 7 months to go!) for the event are Ken Foree (The Devils Rejects, Dawn of the Dead), James Hampton (Teen Wolf, Slingblade), Doug Bradley (Hellraiser, Night Breed), Gunnar Hansen (Texas Chainsaw Massacre), Brian Libby (Silent Rage, The Green Mile, The Mist) as well as a slew of guest in the paranormal field! Now, The Scare Fest is proud to announce that it will continue to please Friday the 13th fans with the latest addition of two new guests!
Joining the already announced guest list are CJ Graham (Friday the 13th part VI) and Warrington Gillette (Friday the 13th part II).
The 2009 event is shaping up to be a big success one again.  The event takes place September 11-13 of this year in Lexington, KY. Tickets are on sale now and can be purchased HERE. Keep checking back as more guests are expected to be announced in the coming days!