Archive for December 2008
You are browsing the archives of 2008 December.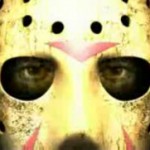 Raise your hand if you're just as interested in this documentary as the remake. *Raises hand* Here's the official promo for His Name Was Jason: 30 Years of Friday the 13th, due to street on DVD on Feb. 3rd, followed by a world-premiere broadcast on the Starz network on Friday, February 13th.
It's gotta be the highest resolution look at the poster art, and the new Jason visage, we've seen till now. Can you believe this was hidden away at the official remake movie website? I expect this to be made into a custom cover for the inevitable zero-day camcorder bootleg DVD-R. Counting. You can also find [...]
Febuary's Fango features the New Friday in its cover story clocking in at a whopping 10 pages, but before then December's issue has a preview article and by the look of things on the cover, a new Jason shot or shots. Source: Fango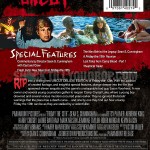 Source: Shock Till You Drop
Standee display in various theaters NOW! Insert-your-own-head to become Jason's next victim! More at facebook.com/victimsofjasonvoorhees
James Kuhoric, writer of Wildstorm's limited series comic Freddy Vs Jason Vs Ash is confirmed to be working on a Freddy Vs Jason Vs Ash 2. Source: Newsarama via Nightmare On Elm St Films
In this re-imagining of the classic horror film, Clay searches for his missing sister in the eerie woods of legendary Crystal Lake, where he stumbles on the creaky remains of rotting old cabins behind moss-covered trees. And that's not the only thing lying in wait under the brush. Against the advice of police and cautions [...]
Something went down and the site rolled back to its week or so ago state, a restore is being worked on. Update Dec 16: OK, I've got word I can continue updating the site. The older posts will be shoehorned at a later date in the near future.
Here's all you need to get drooly over Feb's new DVD editions of the initial Friday trilogy. Part one is the only entry to get a Blu-Ray release for now, but expect it to function as a trial balloon for how the slasher series would fare on the emerging high-def format. The extras are brand [...]