Archive for November 2008
You are browsing the archives of 2008 November.
They're popping up on stores nationwide and they are easily two of Mezco's best efforts to bring Jason fans items to add to their shelves. I'm talking about the Cinema of Fear 12 inch Roto figure from "The New Blood" and the Cinema of Fear 7 inch line series 3 Jason based on his appearance [...]
Streeting February 10, 2009. Fits in nicely with the Season One DVD set.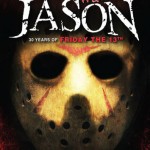 Images provided courtesy of Anthony Masi. HIS NAME WAS JASON: THIRTY YEARS OF FRIDAY THE 13TH (2-Disc Splatter Edition DVD Cover)
From being the first Friday the 13th heroine, to ultimately being the first victim of Jason Voorhees himself, Adrienne King cemented her legacy as one of the most important pieces of the Friday the 13th puzzle very early on. Though a couple of unfortunate and scary incidents lead her on many different paths in life, [...]
More images from the forthcoming documentary His Name Was Jason: Thirty Years of Friday the 13th, provided courtesy of Anthony Masi. TOM SAVINI (FX artist; Friday the 13th, Friday the 13th: The Final Chapter, Host; His Name Was Jason: Thirty Years of Friday the 13th) GLORIA CHARLES (Fox; Friday the 13th Part 3) DARCY DEMOSS [...]
INTERVIEW: Christian Sellers How did a Black Christmas and two Halloween documentaries prepare you to tackle the Friday the 13th legacy? "HALLOWEEN: 25 YEARS OF TERROR was my training ground. From a creative perspective I learned so much about how to present information that spans 25 years. From a business perspective, I learned about licensing, [...]
Time to fold those 3D glasses over your ears, because here's what's streeting Feb 3rd. Friday The 13th: Part 3 – 3D Deluxe Edition A idyllic summer turns into a nightmare of unspeakable terror for yet another group of naïve counselors. Ignoring Camp Crystal Lake's bloody legacy, one by one they fall victim to the [...]
If you've never checked out 80′s TV's excellent Friday The 13th: The Series (finally on DVD!) here's a relative painless way to sample. YouTube user SailorsPlayhouse has cut the first episode down to 10 minutes, keeping only the episodes' touchpoints.
When did your love of Friday the 13th begin and which movie in particular sparked your interest? "Though I was too young to see most of the Friday films in theatres, I vividly remember sneaking in to see Friday the 13th Part 7 with two friends after school. We were covering our eyes, screaming, laughing…it [...]
Just in from Fango: Anchor Bay Entertainment gave Fango the word that it will release the documentary HIS NAME WAS JASON: 30 YEARS OF FRIDAY THE 13TH on DVD February 3, 2009. The exhaustive saga of Voorhees cinema will then have its broadcast premiere on Starz Friday, Feb. 13. Directed by Dan Farrands (screenwriter of [...]