From being the first Friday the 13th heroine, to ultimately being the first victim of Jason Voorhees himself, Adrienne King cemented her legacy as one of the most important pieces of the Friday the 13th puzzle very early on. Though a couple of unfortunate and scary incidents lead her on many different paths in life, Adrienne has since found peace and in the process found herself back into the waiting arms of the Friday the 13th nation. I recently had the chance to talk to Adrienne about everything from her experiences on the set of Friday the 13th, her bout with a stalker, art, and her return to the screen in the upcoming film "Walking Distance"

Q: Here's a cliche question. But I'm sure there are still fans who don't know the story. How did you become involved with Friday the 13th?
I was a young actress in New York auditioning with hundreds of other young actresses during the summer of 1979. The auditions were originally held at the Minskoff Studios on Broadway which is interesting because that's where the the movie opened to a packed house on Friday, May 13th , 1980.
I only had a commercial agent at the time & everyone else I knew had already been in to see the casting director. I finally got in to see Barry Moss through a good friend's friend of a friend. Seriously. After many weeks of callbacks and readings with other actors and then ultimately a screen test (and a powerful scream!), I finally landed the role of Alice, the sole survivor.

Q: How cool was it to know that you had scored the lead role of the girl who "Made it out alive"?
It was so awesome! I really wanted the role of Alice. She was so determined and I truly felt her spirit. I also appreciated that Alice's role was very physical & was looking forward to the battle. Little did I know the full extent to which I would be tested.

Q: Have you embraced the title of Scream queen?
Absolutely. It's a badge of honor that I wear with pride. It means so much more than that to me and I share that with my fans. I figure that we're all survivors in one way or another.
I especially enjoy the conventions & film festivals and meeting all the Friday the 13th fans! We're talking 28 years later! Friday the 13th has a global, three generational loyal & dedicated fan base that I get to interact with now. It's a wonderful tribute and it never ceases to amaze me!
And the cherry on the cake: I just received the 2023 INTERNATIONAL HORROR and SCI-FI FILM FESTIVAL Lifetime Achievement Award and was inducted into thei HALL OF FAME in Phoenix this past October.
What's not to embrace?

Q: What can you say about your fellow Friday the 13th alumni? You guys all seem to get along so well.
We have lots of fun… that's for sure! If you ever get a chance to meet Betsy Palmer; well, she's the ultimate mother of them all! I love her to death!
Q: What do you remember about being on the set of Friday the 13th? Was there any idea as to what you guys had started with this film?
My favorite memories are of when all the kids, the cast, were hanging out on the lake getting to know one another. We were all young New York actors feeling very blessed to be working on this movie!
Kevin Bacon, and Harry Crosby were always fooling around, doing push-ups; buffing up for our beach scene! I remember that I certainly enjoyed sketching them. It was the first week of shooting and the weather was warm & glorious. We liked each other a lot and had a good time. I think that comes across in the movie.
Of course, at that time we were just hoping to be able to finish this little "low budget" film before the Producers ran out of money…. I'm pretty sure that's what most of the cast & crew were thinking! And how many sequels later…….we're still talking about the phenomenon known as FRIDAY the 13th!

Q: What was your most memorable moment in working on this film?
There were quite a few memorable moments. So many etched into my memory for eternity. I felt something extraordinary was taking place while we were filming but since this was my first starring film role I think I was cherishing it all on a very personal level.
All the scenes where Alice & Mrs. V. interact are very memorable! Every scene we shot was incredibly intense! And of course, the final scene in the canoe where" the boy.. Jason" pulls Alice into the lake… the last time we shot that scene it was 28 degrees out as the sun was dawning.
Low budget means no wetsuits. Poor shivering Ari (first Jason) and I remember that scene very well! Of course, so well worth it; that scare still holds up to this day, doesn't it?

Q: Have you dived into the rest of the series? And if so, what is your favorite film in the series with the exception of the first?
I have…I had to do homework for the upcoming Anchor Bay (DVD) documentary (on STARZ this February 09) entitled HIS NAME WAS JASON; 30 YEARS OF FRIDAY THE 13TH.
I thought Amy Steel was very good as Ginny & I liked Joey Zito's Part 4 THE FINAL CHAPTER. Other than that I think the scares kind of dissappeared & they lost track of the original movie and the characters that the series was based on.

Q: You recently talked about your brief appearance in the second Friday the 13th. I recall you saying that you showed up on set having not even read a script. Did you already know going to the set what was to come of Alice?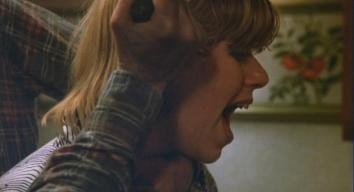 Not a clue!
As wonderful as my experience was shooting the original Friday the 13th was to the other extreme how nasty my experience was on Part 2.
The shoot, for me, consisted of one excruciatingly long, dreadful night that was shot after the rest of the film was done, totally unbeknownst to me.
The crew was in a hurry to rap and get home. That's never a good thing!
As I later found out, there seems to have been a misunderstanding between my new (theatrical) agent and Steve Miner, the director of Part 2. I was having my own personal problems at the time (the stalker was becoming more brazen) and so my focus was elsewhere as these negotiations were going on.
Unfortunately, that disparity made for a very tense and unfavorable filming situation for me. I walked blindly into a hornet's nest! I hadn't been given a script & had to improvise the lines when Alice is on the phone to her mother.
There had been no wardrobe fitting (can you tell?) AND there was no JASON around at all! There was a props man & he (unfortunately) forgot to check the "prop"! So, the "retrackable" ice pick did not retract the first time! It made contact with my face with quite some force….
Now that was, indeed, memorable!
However, upon recently reviewing PART 2 (for the doc) I discovered some crucial facts that seemed to have been overlooked and certainly not addressed in the sequels as of yet.
ALICE and JASON are never seen together. (except for Part 1; in her dream)
You never see Alice's dead body (she's wearing a robe when Jason (supposedly) does her in)
And how did Jason track down Alice in PART 2 … the Yellow Pages?… I don't think so……….
So, is Alice still alive?
If she is, do ALICE and JASON have some unfinished business??????
Something for the fans and potential sequel writers out there to ponder…..
Q: Over the years, your character Alice has been given a last name when there is mention of no such thing on the film. Alice Hardy; Do you know exactly where that last name came from?
I believe it came from the novelization FRIDAY THE 13TH some years later. Not sure & I haven't read the novel.

Q: Paramount announced recently that they are finallly releasing the uncut edition of the original Friday the 13th on DVD which will include the Q & A panel from The Scare Fest. Do you have any inside info on this DVD project? Have you done any interviews to be featured on the DVD?
No. Only the little bit at Scarefest.

Q: Many years ago, you had an experience that really took your heart out of the Friday the 13th world for quite sometime involving a "Fan". What went on with that and what finally made you decide to reclaim your rightful spot as part of the heart of this series?
Yes. I had a serious stalking situation. It was such a prolonged and traumatic personal experience that it is still difficult to share.
You have to remember this was 1980-1981; and stalking was not taken seriously back then, especially by the authorities. It wasn't until Rebecca Schaeffer was stalked and killed by a fan in 1986 (I think) that finally, law enforcement realized this was a very serious crime and one that needed to be dealt with seriously!
So, what happened to me started shortly after the premiere of Friday the 13th…
I would receive phone calls late at night with no one on the other end… so I changed my phone number … at least six times during the next year or so.
Back then it was easy to access information, too. Now there are laws about that, too.
I would receive a Polaroid or two under my door in different envelopes and assorted menus (Chinese, Italian, etc.). The Polaroid would show me doing something from the day before (ie; having lunch with a friend) or the week prior (in my dance class) just to let me know that I was being followed and watched.
My boyfriend, at the time, was threatened and beaten up by "thugs' for hire who threatened him to "be smart and stay away from me".
These are just a few examples and there were so many more bizarre occurrences that would begin to undermine my trust in normal people and everyday life; psychological torture that I wouldn't wish upon anyone.
Eventually, after quite an ordeal my stalker was apprehended and "slapped on the wrist". I haven't heard from him since but now I have the FBI (also fans) on my speed dial; just in case.
I retreated into my painting for therapy. My paintings became very dark and isolated; very much paralleled to my frame of mind.
The most remarkable thing about my ordeal is that my fans have actually helped me finally and totally heal.
There was still a lingering piece of that wound that I didn't realize still existed, that ultimately achieved closure when I shared some of the details of my personal nightmare with a packed house of Friday fans at a Chiller convention in New Jersey in 2023. You could have heard a pin drop!
That's when the realization occurred that I had so many loyal and devoted fans who really cared about what had happened to me. It was tremendous, cathartic and freeing! I'll always appreciate and adore my Friday the 13th fans. We've shared a great deal together.
Some day I will write a book about the details of what happened showcasing my dark paintings because the Friday the 13th fans have expressed enormous interest in what has been referred as my real "horror movie"!
Q: We spoke recently about what it was like for you to finally dig out a box containing all of your old Friday the 13th memorabilia. Tell our readers what that experience was like for you.
When I moved to Southern Oregon 4 years ago I finally got to open all my "stuff" in my new art studio including a big old dusty box marked Friday the 13th which hadn't seen the light of day in over two decades.
When I tore it open I couldn't believe the treasure trove of original Friday memorabilia that was buried within! There were 30 or so Polaroids; continuity scene shots, from the Camp Crystal Lake, original movie reviews (all on my website) my cowboy boots , turquoise rings & jewelry that Alice wore & my jeans!
And stuffed into those jeans' pocket were Sean Cunningham's original director's notes (coffee stains & all) from the night where Mrs. Voorhees & Alice have their fight scene on the beach!
And on top of that; the most amazing thing beyond finding them was that there were "13" (yes! 13!!!) notes listed.
Sean couldn't believe that! "There's no way", he said to me when I called him up to tell him of my recent discovery!
So I decided to make a poster for Sean and me. He totally flipped out! He loved it & it's the only piece of Friday the 13th art Sean has hanging in his house.
He suggested that the fans would go crazy for the poster but to make it something really special by creating a LIMITED EDITION POSTER. So I did!
And the response has been awesome!
Each poster is signed & numbered by me & then I've stamped the back of the poster with my personal ART STAMP.
It's a whole new way to watch the movie, too! You can freeze frame the scene; each number is a directors note that calls the shot! This was my ultimate Friday the 13th find… so far!
Q: You have totally utlized this awesome finding of Sean Cunningham's scene by scene notes into something that any fan of this series should have in their collection. It's easily the most unique and personal pieces of Friday the 13th memorabilia that I have ever seen and owned. What more can you tell our readers about this piece, how limited is it, and Where can fans get their hands on one of these?
The posters are available on my website www.adrienneking.com (and www.officialfridaythe13th.com) ! There's a limited edition of 1300. When that edition is over; it's over!! They're just way cool & I get a lot of great response after fans have had a chance to watch the movie with the poster in hand!
I'm also proud to announce that some of my paintings, including some of my dark art, will be featured in the upcoming Anchor Bay documentary HIS NAME WAS JASON; 30 YEARS OF FRIDAY THE 13TH!(on STARZ this February '09) including:
Alice in the Canoe, Camp Crystal Lake; circa 1979, POST JASON, STALKING ON 82ND STREET, and THE FINAL CHAPTER
You can order them either on canvas or on enhanced photographic matte. These are also limited editions, numbered & signed by me. I've recently sent my paintings to fans in Australia, Japan and Brazil. Needless to say ALICE in the CANOE is my biggest seller! Can you imagine the kick I get out of the full circle of my two passions interacting? My charcter meets my paintbrush! Too awesome!

Q: You are heavily involved in one of my personal rediscovered hobbies and that is portrait painting. You have described your work as your "Dark art". What can you tell us about your paintings? How long have you been painting? and what exactly does the term "Dark art" mean?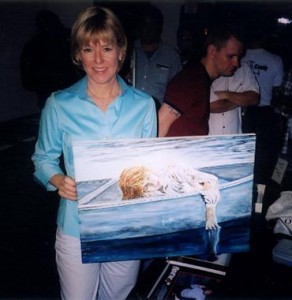 I've been painting since I was a child. I've been blessed with two passions: acting & artistry. When I wasn't acting I 'd probably be sketching or painting. I attended FIT in NY on a fine arts scholarship.
When the stalker showed up in my life I found myself retreating to my canvas and my paints. It's a safe place to hide, I guess. My subject matter grew darker as did my palette. I destroyed a lot of these pieces but some survived and I've been sharing them on my website. "STALKING ON 82ND STREET" is especially autobiographically dark. The more you look at this painting; the more faces, masks, potential stalkers around corners.. this was my living hell for a chunk of time.

Q: Any advice you would give someone who is just is just starting out (or in my case picking it up for the first time in ages) painting?
Give yourself permission and try not to analyze your work. There is no right or wrong in painting; that's what's so freeing about it. Just go for it!
Q: You have recently decided to return to the screen. Your return will be in the upcoming film "Walking Distance". What can you tell us about "Walking Distance"?
I'm so excited about this movie! It's an independent Horror sci-fi movie and the script was original & fabulous. The role of Louise Strack ws originally written for a man; so it was something I could totally sink my teeth into.
I knew if I was going to comeback on-camera after all this time that the film & my character better be awesome. I don't think my fans will be dissapointed! I'm not allowed to gve anything else way but I'll send you a picture of my character; one picture's worth………
Q: How was it to be behind the camera again?
I'm happy to say that it was an amazing experience. I have to admit I was nervous at first but once I started getting into Strack's head I was immersed in her soul and Mel House, the writer & director, was brilliant & allowed my character to dig deep and really fly. The cast & crew were passionate & the shoot was down & dirty! It was great to dig in again!

Q: When can fans expect to see this film?
I'm hoping Spring of '09!!!

Q: Last, but not least, just know that we the fans of Friday the 13th are truly glad that you ultimately decided to rejoin the Friday the 13th world in recent years. It was truly a pleasure to get to chat with you both here and a few weeks ago in Lexington. Where can fans expect to see you in the coming months and what would you like to tell the fans of your work as well as the Friday the 13th fans in general?
It was my pleasure meeting you, too, Tony. And good luck with your masks, your artwork and your new website! Thanks for your patience & encouragement!
Word has it that WALKING DISTANCE may have a trailer at FANGO in Chicago this February but that's not definite.
I keep in touch with my fans through updates on my website www.adrienneking.com and /or www.officialfridaythe13th.com as well as MYSPACE (Adrienne King13).
UPDATE: Here is an exclusive look at Adrienne's upcoming movie "Walking Distance"