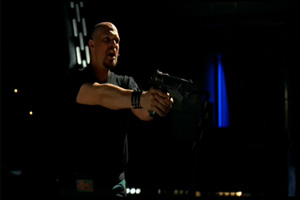 Of late, a few of the creative minds behind the New Line Cinema Jason Voorhees films are now being linked to other modern iconic horror legends. Just announced yesterday, Adam Marcus, Director of Jason Goes To Hell is currently writing Leatherface 3D. Todd Farmer, writer of Jason X, is attached to write the remake of Hellraiser. Since these two are helping with other iconic figures, we wondered if they would ever come back to the franchise that helped jumpstart their careers.
Todd Farmer was recently asked that very question on Formspring. Below is his response.
I would be wary. Would depend on where Swift and Shannon stood as well as who was involved behind the scenes. Dunno. Gone down that road annoying results. Would need to be some planetary alignment…and a fair amount of green I'd guess.
It might take a little push to get Todd to come back and I wonder how he would direct the story of the franchise? Would he be a good choice to write new adventures? What previous writer and director from the Friday the 13th series do our visitors think would be good choices to come back to the franchise.