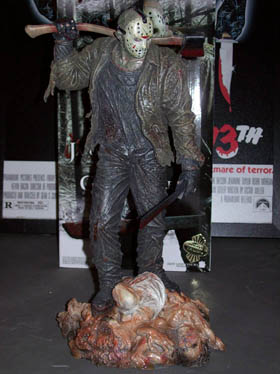 We are closing out the first week of the awesome contest that Friday the 13th: The Website and Sideshow Collectibles have brought to the fans and so far we have had a lot of great content added to the Fridaypedia. There has been a real good number of people that have at least signed up for the Fridaypedia and that shows a lot of people are ready to win the "Terror of Crystal Lake" statue that is up for grabs. However, we just wanted to remind everyone that you must also help contribute your knowledge of the films to the Fridaypedia to be entered into the drawing at the end of the contest.
Those that have been contributing have been doing a fantastic job of adding images and information about the films and everything to do with the saga. Check out the Friday the 13th: A New Beginning page in the Fridaypedia to see all of the information that now resides there. Some information was added by the Admins, other by our visitors.
Remember, the contest ends on Thursday October 14th. For contest rules, visit our Contest Announcement. Good luck to everyone who signs up and contributes to the Fridyapedia, the place where Friday the 13th fans control what film information the world sees!