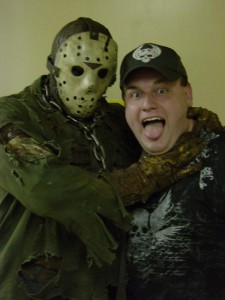 It's been nearly one year since the 2008 Scare Fest became the sleeper hit of the 2008 Horror convention circuit with their highly publicized Friday the 13th cast reunion. In it's first year, this convention managed to spark the attention of Paramount pictures, get featured on TWO DVD's and was tagged as the number two paranormal convention in all of the country. With added attention becomes high expectations, and with high expectations comes increased ticket sales. Yet these are the things that make those involved in making the upcoming 2009 Scare Fest tick. Due to the popularity and success of the 2008 event, it only made sense for the sequel to be bigger and better. From everything from giving a larger lineup of horror stars, adding on special events and increasing the overall size of the convention space, the people involved in putting together this extremely fan friendly convention have worked very hard on jumping over the bar set by the 2008 event. With one month to go, Co-creator and Event manager Jeff Waldridge dropped by to give fans a little peak at how it all came together, and what they can expect when they come out for the 2009 Scare Fest: Horror & Paranormal Convention. Grab your machete's and hocks because Scare Fest (September 11-13) is about to bring Crystal Lake AND MORE to Lexington, KY once again!
Tony C: Being nearly one year removed from the first Scare Fest, how high would you say the bar has been set considering that it's safe to say that in it's very first year, The Scare Fest was a great success?
JEFF WALDRIDGE: The bar was set very very high, Seeing as we had the success of a convention that has been running for like 3 or 4 years now. I have to strive to make the show even bigger and better. I believe I have done that. I have spent alot of long nights just thinking about stuff. How could this be better? What would happen if we did this? I think it will deliver. The Fans will have so many options on things to do that they will have a good time.
TC: After the learning process of putting together this convention previously, what have you learned and what have you done differently this time around?
JW: I have a secret formula I use when putting it together. I am a promoter first off. I worked in the Pro Wrestling Industry for 10 years and I know alot of tricks. I have the ability to look at it from a fans point of view. I always did the same when wrestling in thinking about what would I pay to see or what would excite me. I don't stress about competing. I only want to put on a good show for the fan.
TC: This year, it seems that the advertising has been amped up. What all has been done to make sure you are reaching out to a wider group of fans in terms of advertisment and getting the word out?
JW: We shot 3 commercials that will air in the local market and on the internet. We went all out! We are using the top production company in Lexington and they were shot in HD. We are going to use posters like last year and we have put together an awesome street team. So far we have handed out almost 20,000 postcards! We have a big radio campaign lined up as well.
We have already sold twice the amount of tickets that we sold last year at this time and our main advertisements have not even went out!
TC: The Scare Fest offers up many ticket packages/special promotions. For those who aren't yet aware, what type of ticket options are available?
JW: Platinum pass: 490.00 which includes 2 golden tickets, 2 t Shirts, and a hotel room for 2 nights it is very very limited at this point
Golden pass: 95.00 which includes VIP access to all 3 days of the event and a t shirt they are almost sold out and will sell out
Weekend pass: 45.00
Friday pass: 15.00
Saturday pass: 20.00
Sunday pass: 15.00
TC: You guys definitely stick to your "No fan will be turned away" when it comes to ticket purchases, meaning that the event cannot and will not sell out, and all are welcome. With the addition of more Gold and Platinum tickets this late in the game, is it safe to say that expectations have already been exceeded?
JW: Yes! They have been blown away and people say we're in a recession the economy is bad. We have not seen any evidence that the economy is bad from the fans! They are starving for this event. I am so happy because I was super super nervous when we started selling the 490.00 tickets, but people are buying them very fast and they are almost sold out. The Golden are nearly gone too so get yours while they last. We will not extend the numbers any further.
Plus, just to be nice to the fans we will not raise ticket prices at the door. We want you to spend your money inside and not at the door. But I stress get any ticket in advance the presale line will move quicker.
TC: On Friday, September 11, anyone involved in fire fighting/rescue squad who wishes to attend the event can gain access for free if they come in uniform or submit an ID. Tell everyone more about this special promotion and how it came to be.
JW: We decided since September 11th falls during our event that we would do something nice to pay back the people that really bust their asses and put their lives on the line for us. So all Fire, EMS, Law Enforcement (including corrections officers, and active military) get in free! I included corrections officers because they always get left out and they have a rough job. Will we lose money by doing this promotion? NO! These people pay for the price of this ticket everyday they put on the uniform they wear.
TC: The 2008 Scare Fest featured a Friday the 13th reunion that was featured heavily on the Friday the 13th Uncut DVD and Blu Ray and a direct look at The Scare Fest on the Friday the 13th part 2 DVD and Blu Ray. Both of which received a positive response. Has this exposure helped get the word out about the event?
JW: I really truly owe a huge huge "Thank you" to Paramount for this! They put us in a whole different category. Do you know how many times I have watched myself on that DVD!? LOL!
TC: This years horror line up is rather extensive. Is it true that some guests actually caught wind of the event and how well it went last year and contacted YOU about potential bookings as opposed to the opposite?
JW: Yes! I was contacted personally by almost all of the guests with the exception of about 3 or 4! Its weird because I would be lying around and I would get a call and on the other end was a horror icon I have watched a million times! They would say "I don't know if you have seen my films but I am so and so." LOL!!! I knew every one of them and have watched their films but I don't get star struck at all.
TC: Given this exposure, did it make it a no brainer to give the passionate Friday the 13th fanbase something to look forward to with the booking of three previous Jason's? (Kane Hodder, CJ Graham, Warrington Gillette)
JW: It WAS a no brainer and the Jason's contacted US about coming! They always say if you build it they will come. LOL!. Well they came! I am glad my pal Kane Hodder will be returning as well. I am a little partial to him as Jason ;)
TC: Though it was said early on that you would prefer to book an entirely new lineup for 2009 (meaning all new guests) to give horror fans a chance to meet a new crop of their favorite stars (and smartly so), as mentioned above, Kane Hodder was signed on to make a return to the convention. Was this a "back by popular" demand type of situation? Kane was easily the most requested "return guest."
JW: Yes he was requested and Kane was passionate about coming. He is an awesome guy and people can't wait to see him. He was brought in by one of our sponsors Screampark. I will always be Loyal to the first years lineup. They helped me make this a hit. Its sad I could not have more of them back but I had to be a smart businessman.
TC: Many new events are scheduled for the 2009 event that fans were not treated to last year. What can you tell potential convention attendees about these new events and as a horror/paranormal convention fan yourself, which of these events are you looking most forward to?
JW: We have the Boo and Brew pub crawl which will let people indulge in a different type of spirit for a discounted price.
We have the costume ball which will be a wild atmosphere and my sick ass mind is coming up with the decor for it.
We also have a help/info booth this year where you can ask questions, get a dealer map, a program, a city map, or any other info you may need.
We have changed the layout a little for the good.
I myself am looking forward to it all. If I was a fan that did not have full access I would for sure be buying a ticket. I love conventions! You guys will see me being a fan on sunday when the battle is almost won.
TC: One of the best things The Scare Fest seems to do is start the booking process early on. Exactly how early did that process start once the doors closed on the 2008 event?
JW: Yep! As soon as the doors were shut! I literally laid on the couch for 2 days resting and then I started on the guest list and alot of the stars just fell in my lap. I use an "if it feels right I do it" approach. Like I said I have a formula I use but its secret.
TC: The Scare Fest will featured many discussion panels featuring guests from both the horror and paranormal fields. What discussions are planned at this time?

JW: We have the usual. I do know Ken Foree will do a Q and A. We have one planned for the folks that were in Halloween. We are in the middle of planning a Jason panel or a "men behind the mask" panel. Robert Kurtzman will also be speaking.
TC: Which guest seems to be the biggest surprise (unexpected) for those planning on attending the event?
JW: Robert Kurtzman, He is the co founder of KNB EFX Group, he is the director of Wishmaster, And he wrote the story for Dusk Till Dawn. Thats not even counting the FX work he has done.
TC: Kurtzman actually picked up multiple booths for The Scare Fest! This sounds exciting! Do you know what Kurtzman has in store with these booths?
JW: He is going to have 4 booths that a 40X40 space that he will have props from his films and all kinds of things setup! He will be promoting Robert Kurtzman's Creature Corps and Precinct 13 Entertainment.
TC: One of the more fun aspects of horror conventions are special screenings. What's in store for horror fans this time around?
JW: We got the showing of Dark Night of the Scarecrow! I love this film! We have all kinds of other fine indy films. Check out our webpage. We also have the midnight 35mm film print showings at the Historic Kentucky theater (Texas Chainsaw Massacre) and one of them involves a very angry guy named Jason! (Friday the 13th part VII: The New Blood with special introduction by Kane Hodder himself!)
TC: What kinds of special events and surprises can fans of the paranormal look forward to? Who are some of the guests involved in this field?
JW: We have Travel Channel's Ghost Adventure crew, Chip Coffey, Shannon Sylvia (Ghost Hunters), Carmen Reed (the real lady from The Haunting in Connecticut), John Zaffis Demonologist, Michelle Belanger occult expert and psychic vampire.
TC: Vendors play an intricate role when it comes to conventions. What can fans expect when it comes to picking up some new horror merchandise at Scare Fest?
JW: We will have around 128 vendor spaces and they will be able to get everything from Tshirts to dolls to masks to anything else. We even have some tattoo artists where they can get something that will last forever!
TC: As quickly as you guys like to start the booking process, is it safe to assume that ideas for 2010 are already swirling through your heads? If so, who would you like to target?
JW: I already have huge ideas for 2010. It will center around a certain genre of horror and the fans will love it! Thats all I will say.
TC: With the 2010 Equestrian Games coming into Lexington, KY in 2010, there lies the potential that the dates may have to change a bit next year. Any word on that at this time?
JW: The dates will change a little but it will be within a weekend or two of the dates we always use. There will be alot of people already in Lexington when we have our event and that will help, but I stress to people as soon as the dates are confirmed and announced book your rooms or you may have a hard time getting one!
TC: Last but not least, if they still are not convinced, tell everyone in the area, or those willing to travel to the area, why THEY should attend the 2009 Scare Fest in Lexington, Kentucky.
JW: If you miss Scarefest you will have to sit around and listen to your friends talk about it until 2010. We only have 1 per year so make sure to come. It is the place to be! FYI we have had several people of extreme importance inquire about tickets. Thats all I will say. Don't miss it. I promise it will be one of the most fan friendly events you will attend!!