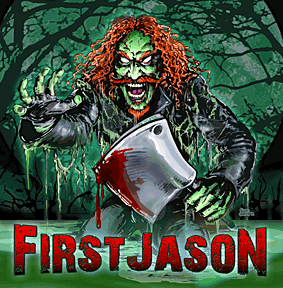 It's not every day that someone gets the chance to cement themselves as a big part of horror film royalty. But at a young age nearly 30 years ago, a young man by the name of Ari Lehman cemented his horror movie legacy by popping out of the lake to reveal the very first onscreen appearance by Jason Voorhees! Forever know and forever proud for being the first Jason Voorhees has meant a lot to Ari. If you get a chance to make it to a convention and he is on the bill, you have got to meet this guy! Easily one of the most intelligent,  approachable and fun people to be around, Ari Lehman stops by fridaythe13thfilms.com to let us know how it feels to forever be the First Jason…as well as give us a little info on his upcoming punk rock album from his band appropriately named…First Jason.  Click below for metal madness with Ari Lehman!
TONY CARROLL:  I'm sure you get asked this every day of your life. But let us inform the readers who may not know already for whatever reason. How did you become involved in Friday the 13th?
ARI LEHMAN: Hey Everybody! When I was a little kid, I wanted to be in the movies, just like many kids do. I also happened to live in Westport, CT, and liked to play Soccer. So, when a friend recommended that I go to an audition for "Manny's Orphans", a film about to be produced by Sean Cunningham of Westport, CT, about kids who play Soccer, I jumped at the opportunity.
Not having an agent, I decided to go to the audition, held at the local YMCA, carrying a clipboard to look official. I walked up to the front desk and asked, "Where's the audtion?". "Upstairs" was the answer, so, I pretended to write something on the clipboard, and walked upstairs, where they handed me a script, and I landed the 80-line role of "Roger", a sex-obsessed orphan, often seen with a Playboy mgazine in his hand. Unfortunately the film was a flop.
Sean Cunningham came up with the idea for "Friday the 13th: as a way of making up for the losses of "Manny's Orphans".
He called me one day, and asked me to come down to his office, he had another role for me. Then he asked me,"Can you swim?", and I answered, "Yes.", "You got the part!", said Sean, and that was that. Good thing I could swim…
TC:  You will live in infamy forever for having been the very first Jason Voorhees and you seem genuinely proud of that as you should be. What does that distiction mean to you?
AL: Well, of course, there will always be only one FIRST Jason Voorhees, and that is a great honor. I consider Jason to be a direct descendent of a long line of Famous Monsters. Frankenstein, Dracula, The Mummy, The Wolfman, Creature from the Black Lagoon, are icons of Cinema. I feel that people relate Jason to this respected lineage largely due to the fact that these characters were developed by more than one actor: Lon Chaney, Bela Lugosi, Boris Karloff, Christopher Lee, Lon Chaney, Jr., for example.
One of my earliest memories connected to Horror films is a serious discussion comparing the virtues of these Cinema icons with my friends at summer camp when I was around 10 years old. I feel that fans really enjoy comparing different actors versions of the same monster. For instance, everyone knows and loves Lon Chaney, Jr.'s portrayal of The Wolfman, as do I. His ability to garner sympathy for this inhuman beast is amazing. However, my favorite portrayal of The Wolfman is Oliver Reed's version in "Curse of the Werewolf".
Due to the fans devotion and enthusiasm, Jason Voorhees has developed into a distict character with certain traits, perhaps based on certain elements from the first film, but largely independent of that influence. The first Jason transforms underwater from a vulnerable child into an indestructible monster, bent on avenging his mother's death.
These elements of the dark water, the slimy vegetation, the boy's transformation, the girl in the boat, the mother's death, are all universal symbols, that resonate deeply within the viewer's unconscious mind. These are the aspects of the character that I am most proud of, that are the scariest, and that I hope someday return to the Jason saga.
TC:  Judging from convention appearances and the like, the Friday the 13th alumni seem to get along exceptionally well. What do you recall about the mood on the set and how awesome is it to get to continually hang with these folks after all
these years?
AL:  The F13 alumni are some of my dearest and most respected friends, and the fans of F13 are absolutely the most loyal and devoted, wonderful people. It is a thrill to meet them at these events, and I think that the atmosphere of the convention lends to us all being in a good humor.
Betsy Palmer, is an amazing person! Harry Manfredini always is willing to give me advice about soundtrack work, and is a funny man. Adrienne King is hip, and talented, and lots of fun to hang out with at shows. Tom Savini is always a blast, and a big inspiration to me. Kane Hodder is another alumni who can always be counted on for guidance and encouragement.


When I was on the set, it was a very open-minded, creative environment, with a summertime party feel, due to the fact that most of the cast and crew lived in NYC, and this was an opportunity to spend some time in the country sunshine, get some fresh air, and get paid a little too. There was a lot of partying going on in the evenings. I had to get into makeup at 5AM, about two hours before the set call, which was usually around 7AM, so some mornings were difficult!
TC: What is it like to get so many opportunities to meet and greet fans of this series and can you give us any weird stories about meeting a fan?
AL:  In fact, the fans are the ones who bring Jason Voorhees back to life every time, when they go to the box office, or the DVD store, or download F13 films. I have met fans of every stripe, from Police Detectives and US Marines to Punks and MetalHeads, from businessmen to baby girls. I have never been more welcomed, or felt more sincere support in my life.
I honestly have no "weird" stories about fans. You see, I am known to spend PLENTY of time at these conventions partying with the fans, especially when my band FIRSTJASON performs at a convention, like the one coming up in Texas, FEAR FEST, November 7-9, at The Arlington Convention Center.
I have been amazed to see my own image tattooed on several fan's arms, and I have tattooed my autograph into a fan's shoulder blade too! That IS pretty wild but not too "weird".
TC:  A lot of the cast members seem indifferent about the Friday sequels as well as the upcoming 2023 relaunch. You on the other hand seem very open minded about the sequels and genuinely excited about the relaunch. Being a fan of the series as well as an alumni, which film is your favorite other than the first and what is your exact opinion on the upcoming relaunch?
AL: Well, I must be impartial about films that were made by close friends of mine, and I feel that each installation has something to offer. Meanwhile, I do believe that Part 4 deserves note, with Tom Savini back on the SFX, veteran Horror director Joe Zito at the helm, and the great Ted White as Jason, it has a certain production quality that some of the others lack. Ted White, by the way, is one of America's finest Stunt Directors, and was John Wayne's personal stunt double for over 17 years! He is a true gentleman, who raises our property value with his presence.
I am definitely excited about the relaunch, especially after having viewed the trailer, which I found to be genuinely scary, and well thought-out. Derek Mears is a very nice person, and I am certain that they have made a fine film.
TC:  You have been involved in a punk rock band with a most fitting and awesome name; FIRSTJASON. How long have you been involved in this project and how did it begin?
AL:  I put together FIRSTJASON around two years ago in a response to fan requests for me to do a Punk/Metal project. I have been a professional touring and recording artist for over 20 years, working for Interscope Records, and Tuff Gong, Bob Marley's label. When I started to get into the Horror scene, I went back to my roots in NYC, watching REAGAN YOUTH, BAD BRAINS, DEAD KENNEDYS, and THE RAMONES.
TC: Tell fans what First Jason is all about?
AL: FIRSTJASON is a Monster Metal Band, and we do songs like "Jason Is Watching", "Jason Never Dies", "Sink or Swim", "You Better Run", and "Machete is My Friend", with lyrics that depict the inner workings of Jason's mind.
Since Jason is silent, FIRSTJASON is the voice of Jason, expressing his righteous rage gone awry, his eternal quest for the ultimate vengance, which will never be satisfied.

FIRSTJASON consists of myself on Vocals and KeySword, the loud, distorted analog synth that I attached to a sword, with NEFARIOUS, from the Chicago Death Metal Band MACABRE, on Bass, and AMIT CLEAVER, from NYC Punk Band THE CRO-MAGS, on Drums. FIRSTJASON has toured the MidWest and South regions, and opened for such acts as TYPE O NEGATIVE, MUSHROOMHEAD, WEDNESDAY 13, and MICHALE GRAVES BAND.
TC:  Judging from what I've heard, First Jason has a really distinct sound. What can fans expect when they listen to First Jason for the first time?
AL:  The KeySword is a thrill to see and hear in action, check out the photos at http://www.FIRSTJASON.com. Our sound is loud, fast, and dark, and the band is tight. Our focus is the music, and these musicians are very talented, enabling us to break form at times, and go into maddeningly creative bits of collective improvisation, then slamming back into song.
I usually do a KeySword solo of Bach's Toccatta from The Phantom of The Opera, which always brings the house down, as I scream out "Lon Chaney! Lon Chaney! LON CHANEY!"…
TC: Let's talk about one of the most wicked looking instruments known to man. The Key Sword! What exactly is The Key Sword and what goes into playing it?
AL:  The KeySword is a key element to the FIRSTJASON sound. I can play on it EXTEMELY fast, and yet it sounds exactly like a crunchy distorted guitar! I attached an analog syth to a 6 foot long Chinese Wooden Sword, put a guitar strap on it, and plug it throug a GK Bass amp with the distortion on.
With Nefarious' distictly accurate style of playing a five string Bass with a pick, and Amit Cleaver's amazing groove oriented drumming style, we create a torrentially powerful sound that has a killer groove behind it. It is definitely a Punk/Metal texture, but it has a unique Crystal Lake flow.
TC:  First Jason recently did a musical collaboration with none other than Bill Mosely (House of 1000 Corpses, The Devils Rejects, Texas Chainsaw Massacare 2). Tell us about that as well as how it came to be? What was it like to work with Bill on something that didn't involve a camera?
AL: Bill Moseley is a uniquely warm and intelligent individual. I did the soundtrack for VAMPIRA: THE MOVIE , which got us all the Rondo Hatton Classic Horror Award for Best Independent Film of 2023, and featured Bill Moseley being interviewed about the great Maila Nurmi's work. When Alpha Video saw how well the film was received, they asked us to do a soundtrack CD for them to put out on OLDIES.com
The result was THE VAMPIRA THE MOVIE SOUNDTRACK CD, and they needed some extra tracks to complete a full-length disc. It turns out that the director Kevin Sean Michaels had already recorded some poems he wrote about "Plan 9 from Outer Space", using Bill Moseley as the narrator, and adding some tracks of Bill actually playing Theremin as well. They handed this over to me to create 6 new songs, which I did.
My correspondence with Bill was in person at a convention, where we discussed the project. Once I sent them the first song, they were thrilled, and gave me the green light. I think the best tracks are "VAMPIRA CHANT", "CAN'T TELL ANYONE", and "CRISWELL PREDICTS". You can check them out at www. FIRSTJASON. com at the music page. "CAN'T TELL ANYONE" features Nefarious on Bass, and sounds like Bill is singing live with a hardcore band. CD is available at www. OLDIES. COM.
TC: The first full length album by First Jason will be released with perfect timing. The album will be available on Friday February 13, 2023. Where will fans be able to get their hands on this album and what more can you tell us about the album release?
AL: The release of or first full-length recording is timed to coincide with the "Friday the 13th" relaunch release. The album is being recorded here in Chicago at Sound Palace Studios, run by Matt Mercado, of SUPERMERCADO fame. The basic tracks are finshed, and we are close to completion.
The disc will be available online at CDBaby, at FIRSTJASON gigs, and at my table at Horror Conventions. We plan to release a special clear red VINYL with black splatter Collector's Item Record, with autograph and CD as well.
TC: Is there currently a track listing for the album or is that still being finalized?
AL: The songs are all set, the order may change:
YOU BETTER RUN
RED RED RED
SINK OR SWIM
JASON IS WATCHING
MACHETE IS MY FRIEND
SOUL SELLER
POWER FROM THE PAIN
JASON NEVER DIES
TC:  What is your ultimate goal with First Jason and where can fans see First Jason live in the coming months?
AL: FIRSTJASON will be appearing at FEAR JAM at TEXAS FEAR FEST, alongside MACABRE, MICHALE GRAVES, and THE HORRIFICS with Special Guest EERIE VON, Saturday, November 8th, Arlington Convention Center, Arlington, Texas. www.txfearfest.com
On Saturday, March 28th, FIRSTJASON will be playing in Indianapolis, IN, nearby the HORRORHOUND WEEKEND event.
This performance has been booked and the info is TBA, check the www.FIRSTJASON.com "Calendar" page for updates.
There is a tour planned to promote the album, in the MidWest region, for March and early April. Check website for updates.
The #1 goal is to play great music, reach the fans, rock HARD, and make excellent recordings. I also have a plan to do FIRSTJASON'S FREAK JAM, a Travelling Medecine Show and Cinematic Curiosity, based around FIRSTJASON performing Silent Horror Film soundtracks live, in the style of an old fashioned roadshow, going from theatre to theatre, having one or two week engagements. Sideshow Performers, Burlesque Groups, Independent Horror Filmmakers, and Local Punk and Metal bands will be enlisted, as well as a few name celebs prepaid to autograph a photo for every paying customer free.
FIRSTJASON plans to compose soundtracks for independent Horror Films, then record and perform them live onstage.
TC:  Though you stay pretty busy with First Jason as well as making convention appearances, you also make time to work on an occassional movie. What other movie projects have you worked on both in the past and recently that you want fans to know about? What movie projects do you have in the works?
AL:  I just did a film called MONGO CHUPA, part of the series TERROR OVERLOAD: TALES FROM SATAN'S TRUCK STOP, in which I play Ray Rae, a crazy Redneck who owns a backwoods brothel where the hookers are his sisters. When his 400-pound brother Mongo finds a chupacabra egg, all hell breaks loose!

I also have the lead role of The Circuit Maker, an evil college professor with a nasty scheme to cause mass chaos, in HELL-EPHONE, a ZP International film, done in Kentucky.
I look forward to the release of these films soon…
TC:  Any upcoming convention appearances you would like to let fans know about?
AL: TEXAS FEAR FEST NOVEMBER 7-9
HORRORHOUND INDIANAPOLIS MARCH 27-29
TC:  After meeting up with you at The Scare Fest, I have to truly say that you genuinely have a lot of fun with your friends, fans and others involved in the Friday the 13th series. You were easily one of the most approachable people that I have had the pleasure of meeting. What else would you like to say to those fans as well as fans of First Jason?
AL: I am truly grateful to all of the fans of F13 and Jason Voorhees. In recent years i have become a devoted Horror fan myself, learning more and more about the genre every day.
The more I learn about Horror films, the more that I learn about the very conciousness that we all share as humans. The origins of Horrific Mythos come from early man's spiritual practices, and primal undertstanding of life and death. Meanwhile, the Horror Film itself, originated in Europe, largely Germany, in the 1900's, during the exact same epoch as Sigmund Freud, Carl Jung, Albert Einstein, and others were questioning the deep inner nature of the mind, and the physics of the universe itself. These films, such as DER GOLEM, NOSFERATU, FAUST, DR.CALGARI, were also screened over and over again by the leaders of the French artistic movements, like Breton, Dali, Picasso and Appolinaire.
People who put Horror Films and Literature in a second rate category are ignorant of Human History. Shakespeare's plays, and most fine Operas are rife with horrific imagery and storylines. In fact, what could be more horrific than the visions of doom we read in The Bible itself: the ten plagues of Egypt, with it's swarms of frogs and locusts, rivers turning to blood, attacks of boils, and death of the firstborn, is a Horror movie in itself. Therefore, it is important that we do not lose this crucial tool for the development of human art and literature, and do not underestimate it's potential to deliver powerful insights.
Many Thanks To You All, and remember…
JASON NEVER DIES!!!!!!!!!!!!! ~ ARI/Jason#1

FOR MORE INFORMATION ON ARI LEHMAN AND FIRSTJASON as well as to hear demo's and see videos of FIRSTJASON's music, please check out http://www.FIRSTJASON.com as well as http://www.myspace.com/firstjason. Just wanted to take an extra opportunity to thank Mr. Ari Lehman for taking the time to grant this interview. Thanks a lot dude!