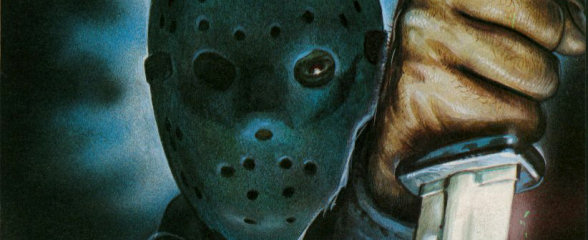 In the 80's the Friday The 13th films came under fire upon the release of almost every chapter. But there was also somewhat of a controversy in the UK over the computer game. Yes, "computer game" - did I stutter? Of course when people think of a playable Friday The 13th they automatically default their noggins to the perpetually and hilariously defamed NES video game. But the franchise got its first kicks through joysticks via (checks calender year) ancient computer systems Spectrum, Amstrad and Commodore 64.
You could be forgiven for thinking the above screencap is mistakingly from a game adaptation of Ladyhawk or something, but keep in mind we've come a long way in the world of gaming in years since. Indeed. If the horror movie connection wasn't enough to attract the cobbled together weekly allowances of schookids everywhere, Domark went out of their way to get some attention for the game - notably through gimmicks. A disclaimer to those with nervous compositions was issued via PR/ad materials. There was a strange competition you were rewarded with just the chance to enter, by trying to identify sound effects at the conclusion of the game. A little simpler and cooler concept were blood capsules that given away with the game. The franchise's notoriety combined with Domark's ace publicity team garnered a cover feature on popular Spectrum rag Crash…
Regardless if the game itself ignited controversy (pretty much every genre or gory title since the dawn of gaming has, primarily going back to Wizard Games' Halloween and Texas Chainsaw Massacre carts), this magazine cover sure did! Many adults (mainly readers, or parents of young readers) wrote in pulling a bit of a huffy. To Crash's benefit, they printed the letters (none of which were actually nasty, this was before the internet remember) and addressed the issue which boiled down to that it was all in good fun, and that the magazine's target audience were teenagers to young adults.
You can read the archived letters and editor replies here and plenty of scanned reviews of the game here.