(photo by Kyle Roginsky)
There was a time when finding a hockey mask that looked authentic (outside of paying big bucks for an actual movie used prop) was virtually impossible. Then out of the woodwork came Special FX artist Ken Tarallo at Frightstuff.com. Ken is a man who gets little credit in the Friday the 13th world, yet it was he who originally created the mold for Jason's first hockey mask in Friday the 13th part 3. In recent years, Ken has launched the site http://www.frightstuff.com. There you can buy the most authentic hockey masks on the planet taken directly from the mold created by Ken. While the masks come completely blank, have no fear. You can hop over to the frightstuff message board and commission one of the outstanding artists there to make the mask even more authentic. One of those such artists is Darren "Ruste Dowg" Laken of Ruste Dowg Productions. Read on to find out more about Darren and how YOU can get your hands on some of his amazing work from painted frightstuff hockey masks to the ultra amazing Undermask known as "The Hood"
FRIDAY THE 13TH FILMS: Judging by your work, you've definitely done your homework when it comes to the Friday the 13th series. What is your favourite film in the series and why?
RUSTE DOWG: Friday the 13th was one of the first 'Slasher' films i watched and yes i have watched them many times and studied reference pictures. It's hard to pick out one film as being my favourite, i like them all for one reason or another, some for the story line others for special effects but i guess it comes down to the portrayal of Jason in the movie that defines which would be my favourite of the series, Richard Brooker, Ted White and CJ Graham were all great as Jason, for me personally i liked Ted White as Jason in the final chapter, he was really intense and i think the audience really came to fear Jason in that film, that was the film that got me really hooked on the series and i have watched the most so, based on that, i guess that would be my favorite.
F13F: What services does Ruste Dowg productions offer? Tell us about your own personal website and the working relationship you have with the folks at Frightstuff.com
RD: The services i offer as an independent artist at the moment are just hockey mask painting, i set up my own website a few years ago (RUSTE DOWG PRODUCTIONS) now but have recently just had it updated by Redcrow designs, they helped me bring it up to a more professional look and added in some great animation at the start of the site which i was really pleased with, the whole idea of having my own site was really to show case what i do and also i think having the forum is a great help for potential customers to be bale to get some feedback on my products and service from regular customers and have the chance to chat with me also.
I have a great relationship with Ken Tarallo at frightstuff
(Ken Tarallo of frightstuff.com)
He really is an amazing guy to work with, he has done so much for the fans of the series by making his blanks available at such reasonable price, he spends an incredible amount of time out of his already busy schedule to speak to the fans and help with insights and tips and it's not just Friday the 13th fans that enjoy what Ken is building on that site but all movie fans.
I feel really privileged to be recommended artist there and work beside the other guys, we all get along really well and speak on a regular basis helping each other out, we all have the same goal to bring the fans something that is as close to owning the original mask as possible.
F13F: Which mask design do you prefer to paint?
RD: I really enjoy the final chapter design, when someone commissions me to paint that style of hockey mask i really look forward to working on it. When I'm shaping the final chapter mask from blank form you really see it coming to life and once you start to shape the eyes it just has this amazing look about it all shiny and white with not a mark on it and the eye shape is so menacing, for me it really has something in common with a shark, it's the eyes, as Robert Shaw's character Quint in Jaws says 'you know, the thing about a shark… he's got lifeless eyes. Black eyes'
The mask has all the elements i like doing involved from the weathering to the blood work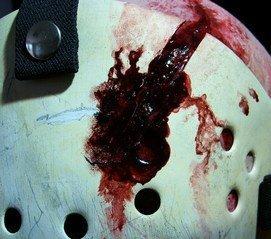 I also really enjoy custom work too, it's really refreshing when i get a request to do something out of the ordinary, i had a customer once ask me to make a hockey mask based on all the damage Jason had received through out the series, i had great fun making that mask.
F13F: You spoke of people making unique requests when it comes to painting these masks. What would be the most off the wall or unusual request you have ever gotten from a customer?
RD: I had someone ask me about making a Mr.T hockey mask with mohawk and earrings not that long ago! That was bizarre!!
F13F: The Friday the 13th "hoods" that you guys make appear to be top notch. What goes into making such a product?
RD: Well that's Neal's area of expertise really!
I had the idea to offer fans a hood that would accompany the hockey masks so they looked more convincing when worn (people will shave their heads around Halloween time!) and something to display them on too.
I contacted Neal at Rubber Gorilla masks over here in the UK about the project as i had little time to attempt it myself. We spent a couple of weeks discussing how to get the look we wanted. Neal sculpted the design from reference pictures i supplied and then he made a mold from that to pull the final latex piece. He then paints the mask and will even add patches of hair on request. I'm really pleased with the final product and how it's been received in the mask collecting community.
F13F: Are there any other "hoods" planned? And what hood would you guys like to tackle next?
RD: For sure, the success of our first project has had us discussing 'what's next?'
One of the great things about the our original hood is that it can pass as a part 3, part 5 and even v's with Neal's talented paint work, so that leaves us with only a few other styles to try and match, i think a part 6 or maybe a part 9 could be our next project but you'll have to wait and see!
F13F: How long have you been doing prop/costume making? Did it start as simply a hobby before you started making things for the general public to purchase?
RD: I have always been a fan of prop making and special effects ever since i saw star wars as a child. I had a friend who's father owned a small breakers yard/ scrap dealers beside his property, when i went to play at my friends we used to be allowed to pick up bits and pieces we found laying around and tried to make light saber handles and droid callers from the scrap we found.
I was always taking things apart when i was younger and trying to make things, doing custom paint work on my toys.
As i grew older i attempted model kits and home made projects but only ever as a hobby.
I painted a hockey mask as part of a Jason costume for a fancy dress party. After the party i decided to sell the mask as i was not 100% happy with the paint style and was surprised at the interest i received. As a hobby i started to paint masks and it lead me to where i am today.
F13F: How long is your mask painting process?
RD: Really does depend on the style of mask, something with a lot of work involved like a toxic part 8 or part 9 can take a long time, i have to build up on the detail and weathering or the final product will not be good quality, i see a lot of masks on the market that have little or no time put into the detail and that is what a reproduction relies on to be accurate.
Something like a part 3 style mask will not take as long but as an average i would say from start to finish i spend around 6 hours in total on painting a mask but that does not include the drying times and the time in between trying to be a good Dad and a good husband!
F13F: Any type of mask that you haven't painted that you would like to attempt? Custom ideas or perhaps a scene in a movie that you just never got around to trying?
RD: There are a couple of styles from the series i have not made yet but i really can't wait to have a go at Derek Mear's hockey mask from the new Friday film that's coming out.
F13F: What advice would you give someone who is attempting to paint their mask on their own?
RD: Patience is a must, don't expect the mask to turn out perfect on your first attempt, if you do you will only be setting yourself up for a fall!
Take your time and enjoy what your doing, don't put yourself under any pressure at all to get it finished in a certain amount of time.
Use water based acrylic paints.
Clear coat every stage your happy with so if you get it wrong on the next stage you can just wash it off and not have to start all over again.
Allow enough time for paint to dry and don't be afraid to ask for help!
F13F: Outside of being a painter of hockey masks, what can you tell us about yourself?
RD: Well trying to be a good husband and a good dad and paint hockey masks really doesn't leave a lot of time for much else in my life! I enjoy spending time with my family and meeting up with friends but i guess my priorities are family then customers and then anything else after is a bonus!
F13F: Anything else you would like to say to fans of your work, potential customers, and Friday the 13th fans in general?
RD: Just that i appreciate all the support i have had from my customers over the years, all the comments on the forums and pictures that have been posted have really helped my reputation. Potential customers should defiantly check out my section on frightstuff as well as my forum to get feedback from past costumers, i am a fan and a collector too so I understand what is expected and always pride myself in my service.I would just like to thank all my family, friends, forum members, Ken Tarallo and the fright stuff artists too and everyone else that has posted on forums with kind words for all their support.
-END
NOTE: I would like to truly thank Mr. Darren Laken for taking the time to do this interview. He is truly a class act as is Ken Tarallo of Frightstuff.com . For more information on these guys and other mask painters, visit Frightstuff.com, The Fright Stuff Forum , Ruste Dowg productions or Rubber Gorilla.

Here is another look at my own personal "Hood" from Ruste Dowg prodcutions complete with a Frightstuff.com hockey mask that I painted myself. I added a shirt to display it like a "bust". I can't say enough about how awesome these things look when worn as well. I will do my best to update this article with some pics of me wearing this thing in the coming days.
-Tony Carroll
(CLICK THUMBNAILS TO VIEW LARGER IMAGES)