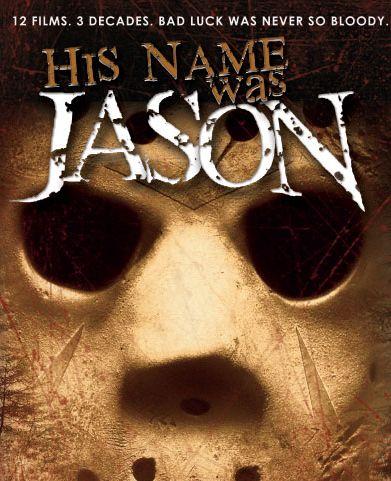 Unless you've been living under a rock at the bottom of Crystal Lake, you'll have heard about the (lower case won't do!) ULTIMATE documentary on our boy Jason.
The Skinny: Streeting on DVD Feb 3, 2023 from Starz/Anchor Bay Entertainment. Directed by Dan Farrands, Produced/Written By Anthony Masi & Thommy Hutson, Co-Produced by Blake Reigle.
Myspace: myspace.com/hisnamewasjason
More info and purty pictures in the future!
Read on for the current list of confirmed interviewees…
Adam Green
Adam Marcus
Adrienne King
Al Magliochetti
Amy Steel
Anthony Timpone
Ari Lehman
Barney Cohen
Betsy Palmer
Bill Randolph
Bob DeSimone
Bonnie Hellman
C.J. Graham
Camilla More
Carey More
Catherine Parks
Chuck Campbell
Cynthia Kania
Danny Steinmann
Darcy DeMoss
David Kagen
Debi Sue Voorhees
Diana Barrows
Diane Almeida
Douglas Curtis
Elizabeth Kaitan
Erich Anderson
Felissa Rose
James Isaac
James Roday
Jeff Katz
Jeffrey Reddick
Joe Lynch
John Carl Buechler
John Furey
Joseph Zito
Judie Aronson
Kane Hodder
Kevin Spirtas
Lar Park-Lincoln
Larry Zerner
Lauren-Marie Taylor
Lawrence Monoson
Lisa Ryder
Marilyn Poucher
Mark Swift
Martin Jay Sadoff
Nancy McLoughlin
Paul Kratka
Peter Bracke
Peter Mark Richman
Rachel Belofsky
Robert V. Galluzzo
Russell Todd
Ryan Turek
Sean S. Cunningham
Seth Grahame-Smith
Seth Green
Shavar Ross
Staci Layne Wilson
Steve Barton
Stuart Charno
Todd Farmer
Tom McLoughlin
Victor Miller
Vincent Guastaferro
Warrington Gillette