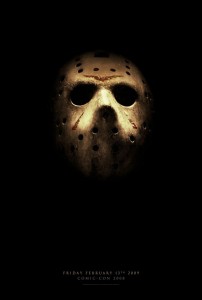 While reading the Guts and Gory Forum. I came across an article that was written by the website www.pajiba.com/. There is a surprising revelation about the upcoming sequel that I personally do not believe. This may not be true, a rumor, but I thought it was worth mentioning.
(*Potential Spoilers* Ahead)
A sequel to this year's Friday the 13th reboot hasn't even officially been greenlit yet, but we already know it's got an official release date — August 13th, 2010 — and that it will be in 3D. However, that 3D sequel — co-financed by Paramount and New Line Cinemas — is still being held up by New Line, most likely because of the relative lack of success of the initial installment, which had a whopping $40 million opening, but only eked out a $65 million gross before the end of its run. Add the $26 million international gross and subtract the $20 million production cost, and there's a decent enough profit there to suggest that the sequel will likely be greenlit. And soon, if they expect to meet the August date.
But how do you bring an audience to an already slumping franchise? Easy. According to our inside source, The Hollywood Cog, Damian Shannon and Mark Swift — who wrote the reboot and are also penning the sequel — have been instructed to kill off Jason and end the franchise.
Granted, Jason has been killed off plenty of times before, but given the already iffy nature of the sequel, it looks as though they already have plans to send Jason off into the sunset — and that may be the only way to really kill him: Launch him into the sun. Of course, if killing Jason racks up enough box-office business, I suspect they'll find a way to bring him back. But, going in, anyway, producers Brad Fuller and Walter Hamada want this to be the last of the Friday the 13th movies, and you can bet your ass that that proposition will make its way into the marketing, spoilers be damned.
No director has officially signed onto the project to fill the vacancy left by Marcus Nispel (who is now directing Conan). And though the script was being shopped to the usual suspects — James Wan, Xavier Gnes — we can also report that a dark-horse contender has risen to the top, and looks to be the most likely candidate for the position. His name is Richard Wardlow, and he'd be making his directorial debut. But, in addition to doing the visual effects on Drag Me to Hell, Mr. Brooks and the original X-Men, Wardlow is an experienced 3D effects animator, which makes him ideal for the 3D sequel.