Archive for October 2009
You are browsing the archives of 2009 October.
From all of us here at Friday the 13th Films, we hope you guys are having an awesome Halloween! To many of us, this is our Christmas! Let us know what you have done this Halloween season. Drop a note in the comments below.
According to Derek Mears' Twitter account he will be performing comedy improv tonight at Comedy Sportz LA at 8:00PM. Check out their website for more details. If you live in the area and want to catch a glimpse of Dereks comedic side, go check him out.
Here's something a little different for everyone to check out. Moving Pictures Haiku Film Reviews create haiku poem style reviews of various movies and franchises. They recently compiled all of their reviews for the Friday the 13th franchise and they are very clever. Read all of the haiku reviews and check out a preview of [...]
Everyone has their favorite character in the franchise that you wish had been left alive. I personally think that Rob in The Final Chapter should have survived, but his death scene was powerful and actually enhanced the movie. Another character I think should have survived was Crazy Ralph. I don't know why they killed him [...]
Mario was nice enough to send me some photos of a Jason X standee he acquired a few years back from a local video store. I am impressed  at the size of the standee, it coming from a video store and all. I would think it came from a theater lobby. Very cool! Thanks, Mario.
VOTING CLOSED For some, Ali is a relative unknown character that shows up for a few minutes in the movie and gets killed by Jason in a few short seconds, twice. However, his character broke the mold of the original four movies in the series as the only African American male character to be created [...]
This weekend there is a huge convention in Parsippany, New Jersey. Chiller Theater has a ton of guests from different genre's of movies, including Patrick Stewart, Peter Fonda, Richard Dreyfuss, Danielle Harris, and two Friday vets Kane Hodder and Lawrence Monoson. Lawrence Monoson would be great to meet and get an autograph from as he [...]
Crash Cunningham's Final Week of his $100 Hockathon is here and this week it features the "Manhattan Part Eight". Check out his website or see the details below. He does a great job as I just received a Jason Goes To Hell mask from him and it is flawless! PRICES: $100 plus shipping. U.S. shipping [...]
Brad Fuller added the following to his Twitter page today: on the mixing stage working on NOES. Still hoping for some good news that will take us back to Crystal Lake. Even though Warner Bros. and New Line have announced the release date of August 13, 2010 for the Friday the 13th sequel, it seems [...]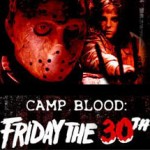 I have been waiting patiently for the guys at Pit of Horror and the organisers of the Texas Fearfest conventions to announce their big Halloween update. And now you will not be disappointed as the one and only Steve Miner will be in attendance!! He has never before appeared at a con or graced any [...]