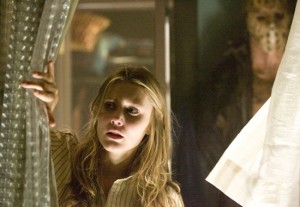 In the reboot of Friday the 13th this year, Julianna was given a great number of compliments about her…. assets by Trent in the movie. Now she is playing a spoiled brat in MTV's Super Psycho Sweet 16, a retro type of slasher movie that airs this Friday on MTV. Although the movie was made for MTV to air in primetime, hence no swearing and toned down gore, I am still a sucker for the slasher genre and the 80's and will check this movie out sometime this weekend. Check out the interview below which was conducted by FearNet.
First the Friday the 13th remake and now My Super Psycho Sweet 16, looks like you're on your way to becoming a regular scream queen.
Julianna Guill: (Laughs) It's funny the way it's panned out I've been so lucky to do these 2 great horror films, I don't know about a scream queen but that does seem to be the way it's shaping up right now. I mean, horror is such a fun genre it's been really great to work on those two movies.
Was there any hesitation jumping on board My Super Psycho Sweet 16 after Friday the 13th?
For me it wasn't going right into it, it was a year and a half since we shot Friday the 13th, in my mind it was spaced out with a big gap between. And the films are so different, almost a different genre. Friday the 13th is such an iconic horror film and My Super Psycho Sweet 16 is more a comedy horror film.
Any second thoughts along the way, was anything really difficult to shoot?
The chase scenes were something I didn't get to do before; in Friday the 13th I didn't have any chase scenes. It was such a great first experience to be chased by a killer and film that and feel that adrenaline rush. I mean, I felt like I wanted to do an action movie right after this because it was so much fun. It was challenging and exhausting, especially when Lauren and I are running around in 3-inch heels (laughs).
The other scene was the scene with Lauren when we're in the basement of the Roller Dome being held captive, it was a very emotional scene, but was so fun to shoot.
Read the Full Interview at FearNet