We have had many discussions on if Jason Voorhees does indeed run. Most of the debates have began due to two reasons. One, the reboot caused quite a stir among fans who did not recall the older movies in the franchise. Seeing Derek Mears run after his victims was quite the shock. There were fans that only remembered the later movies in the franchise and after only remembering seeing Jason walk for almost two decades, skewed their perception.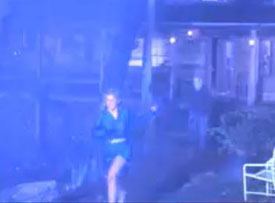 The second reason for the debates is Kane Hodder. Now, I love Kane. He is a great guy when you meet him in person. I did discuss the running aspect of the character with him the last time we talked and he still holds to his convictions that Jason doesn't run. That is his perception of the character and I respect that. He earned his opinion on the interpretation of the character. However, in interviews, when Kane mentions "Jason doesn't run", it rubs people the wrong way. I can see where people get upset.
So, to lay all minds at ease in the debate, here is a video showcasing Jason's cardio workouts from the original set of movies. Yes, Jason does run!!